The CAROLYN CAMPAGNA KLEEFELD CONTEMPORARY ART MUSEUM (KLEEFELD CONTEMPORARY) houses exhibitions and programs that provide space for critical interpretation of contemporary and modern art, as well as culture.
The museum invites students and the public to engage, collaborate and share through various forms of art. Kleefeld Contemporary features award-winning exhibitions and is one of only two museums in the Cal State system accredited by the American Alliance of Museums, an honor reserved for the top 10% of museums in the nation.
Participatory programming in community spaces aims to connect students to contemporary art via interactive arts integration activities, resulting in collaborative and educational opportunities.
Through engagement, the Kleefeld hopes to show a different side of what a museum means and what museums do. As it brings new ideas, fresh projects and unorthodox exhibition environments and contexts to the forefront, the museum will examine the present moment with the people it serves.
The museum's new name honors the generosity of Carolyn Campagna Kleefeld, an artist, poet and passionate supporter of authentic self-expression and journeys into the great artistic unknown. Her gift empowers the museum to grow and allows for unprecedented collection access, and STEAM educational partnerships. All community members are encouraged to visit.
Focused on co-creation, active conversation and open educational opportunities, Kleefeld Contemporary is working to build radical hospitality in its new brave spaces. The new identity honors our community -- one made up of diverse communities and people of difference fighting for greater representation, resources, justice and equity.
The museum has long been a strong steward of arts and culture on campus, as a key partner in the School of Art's Museum Studies Graduate Program and Annual Student Exhibition, Insights. The museum also manages the campus-wide art Conservation Initiative, which cares for artworks in the Outdoor Sculpture Collection that can be found on campus. The museum's significant permanent collection includes some of the finest examples of American Modernist painting in the Gordon F. Hampton collection and its Works On Paper Collection. The Carolyn Campagna Kleefeld Collection offers works of art as a vital educational and research resources for students, scholars, curators and community members.
Kleefeld Contemporary is scheduled to be expanded this year, and several projects will be located off-site before a new expanded and improved space is completed. Admission to the Kleefeld Contemporary is free
Learn More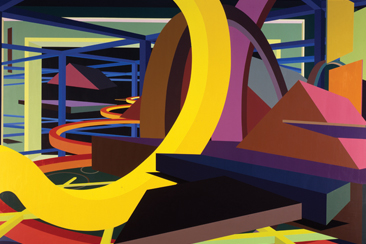 © AL HELD FOUNDATION, INC. / ARTISTS RIGHTS SOCIETY (ARS), NEW YORK GIFT OF THE GORDON F. HAMPTON FOUNDATION, THROUGH WESLEY G. HAMPTON, ROGER K. HAMPTON, AND KATHARINE H. SHENK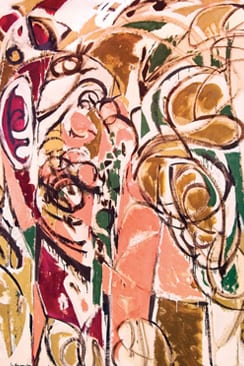 © THE POLLOCK-KRASNER FOUNDATION / ARTIST RIGHTS SOCIETY (ARS), NEW YORK GIFT OF THE GORDON F. HAMPTON FOUNDATION, THROUGH WESLEY G. HAMPTON, ROGER K. HAMPTON, AND KATHARINE H. SHENK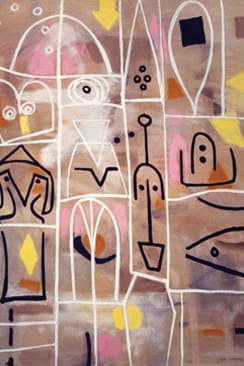 WEIRS AT DAWN, ADOLPH GOTTLIEB
© ADOLPH AND ESTHER GOTTLIEB FOUNDATION / ARTISTS RIGHTS SOCIETY (ARS), NEW YORK GIFT OF THE GORDON F. HAMPTON FOUNDATION, THROUGH WESLEY G. HAMPTON, ROGER K. HAMPTON, AND KATHARINE H. SHENK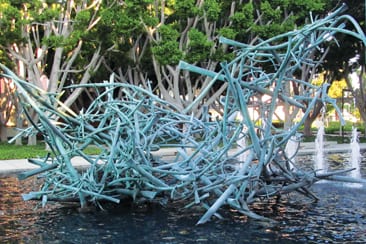 "U" AS A SET, CLAIRE FALKENSTEIN
LOCATED AT MCINTOSH HUMANITIES BUILDING