The UNIVERSITY BOOKSTORE is more than a place where students can buy, rent or sell textbooks. They also can find the latest in branded clothing – from sweatshirts to umbrellas to socks – gifts, school supplies and graduation information. The Bookstore offers ID card services, technology repair and a full retail photocopy and business center, as well as an art store that stocks necessities such as paintbrushes, ceramic tools and modeling clay.
Visit Now
Students also can shop for Beach gear at The Beach on 2nd Street, a shop conveniently located a few miles from campus on Second Street in Belmont Shore.
Visit Now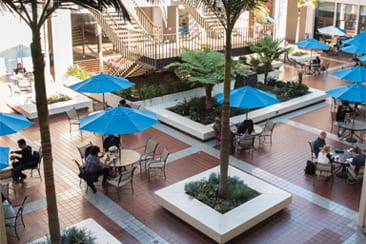 The UNIVERSITY STUDENT UNION (USU) is known as one of the central locations for information and services for the campus. Some of the services in the USU are offered by the university or the ASSOCIATED STUDENTS, INC. (ASI), while others are provided by contracted vendors here to serve our diverse campus community.
RICHARD AND KAREN CARPENTER PERFORMING ARTS CENTER
Each season, the RICHARD AND KAREN CARPENTER PERFORMING ARTS CENTER presents a variety of music, dance, family, comedy and cabaret events by some of the country's leading artists and ensembles. Complementing the performances on the stage is Arts for Life – a comprehensive education initiative that provides free arts events for all ages.
Visit Now
EARL BURNS MILLER JAPANESE GARDEN
This is situated on the CSULB campus, a 1.3-acre Hill and Pond Japanese-style garden that was built through a generous donation from Mrs. Loraine Miller Collins in honor of her late husband, Earl Burns Miller. Founded as an educational resource for the campus and community, the garden advances the university's interest in international education and student engagement. It serves as an outdoor classroom setting for the visual arts and sciences as well as a site for student mentoring.
Visit Now
The 18-story WALTER PYRAMID encompasses three full basketball courts, five volleyball courts and is home to the Division I men's and women's basketball and volleyball teams. It also houses The Pointe, an educational conference center. The blue pyramid has become a nationally recognized icon for the university and city of Long Beach. Nearly 200,000 visitors pass through the Pyramid's doors each year.
Visit Now