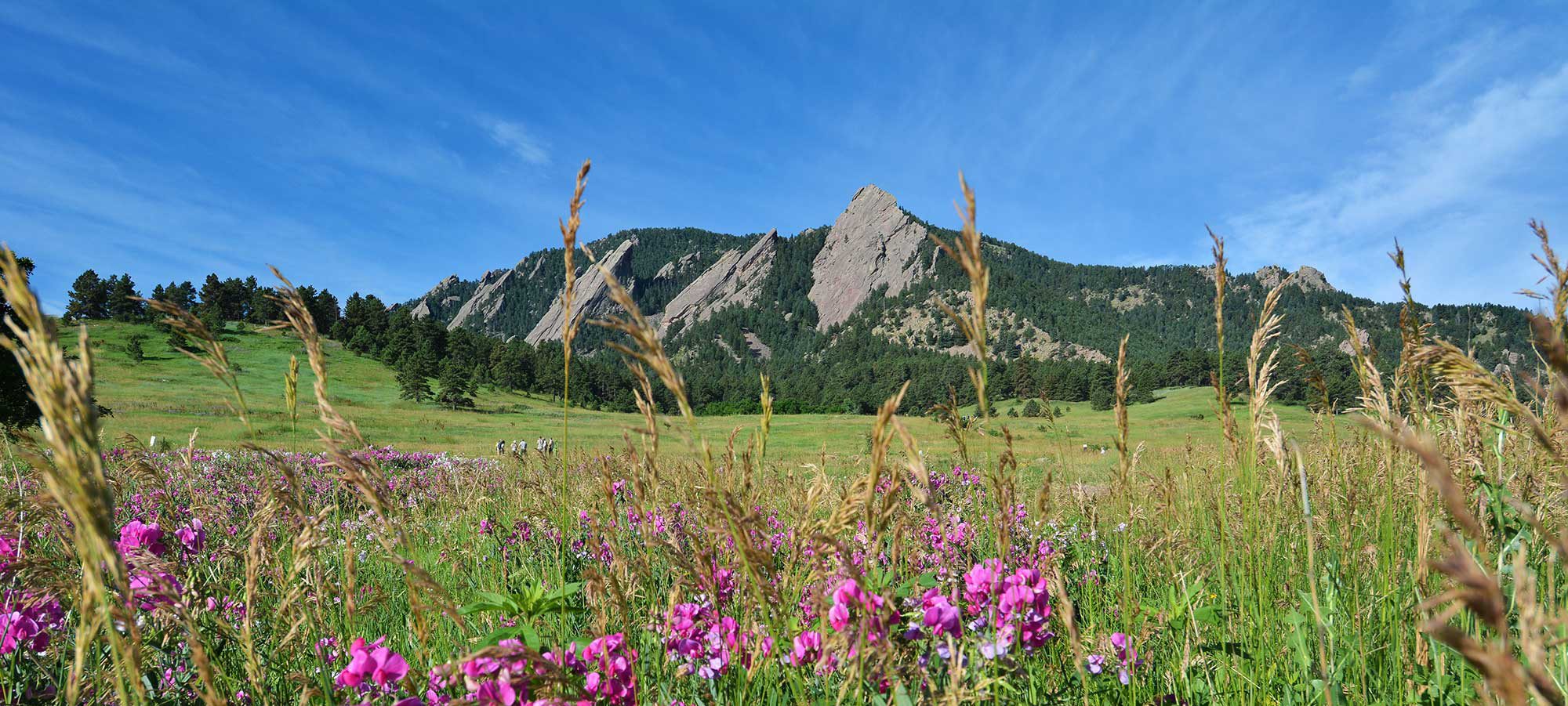 Beyond campus: The Boulder bucket list
CU Boulder students know this place is special. While our students journey through their college experience, they also make time to get out, have fun and grow their community of friends. We've created a CU Boulder bucket list based on our students' favorite activities. These are a few must-sees and must-dos while at CU Boulder.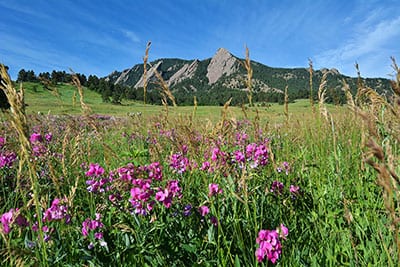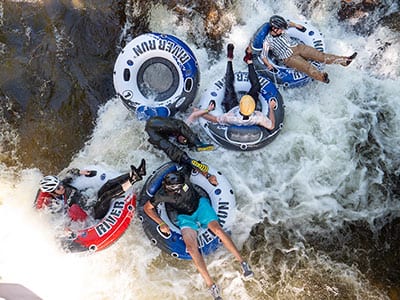 Explore our town . . .
In one hour:
Walk the Boulder Creek Path
With beautiful views and people walking, running and biking the path, you'll get a good sense of what this town is about.
In one day:
Hike Chautauqua Park
A local favorite, the hiking trails provide amazing views and great elevation gain. Don't forget to bring lots of water!
Order a pizza from Cosmo's
A favorite among CU Boulder students, Cosmo's Pizza has a location right next to campus on The Hill and next to Williams Village. And they have a secret dipping sauce!
Rent a bike and explore the town
You can rent red Boulder B-cycle bikes all around town for just $8 a day. Bike from south Boulder, through campus, into downtown and up to north Boulder to experience the city in full.
In one weekend:
Head to The Hill
We recommend grabbing lunch at The Sink (a Buff fav!).
Take a bookstore tour
Boulder has more used bookstores per capita than any other city in the nation. Check out the cool independent bookshops along downtown's Pearl Street.
Enjoy a free tea tour
The well-known and much-loved tea maker Celestial Seasonings is based in Boulder and offers free tours and tastings every hour.
Venture to the National Center for Atmospheric Research (NCAR)
Nestled right below the Flatirons, this research center offers free views of its amazing exhibits showcasing everything atmospheric—from tornadoes to global warming.
Coffee & music
Laughing Goat on Pearl Street offers amazing coffee and tea beverages, as well as free music nearly every night.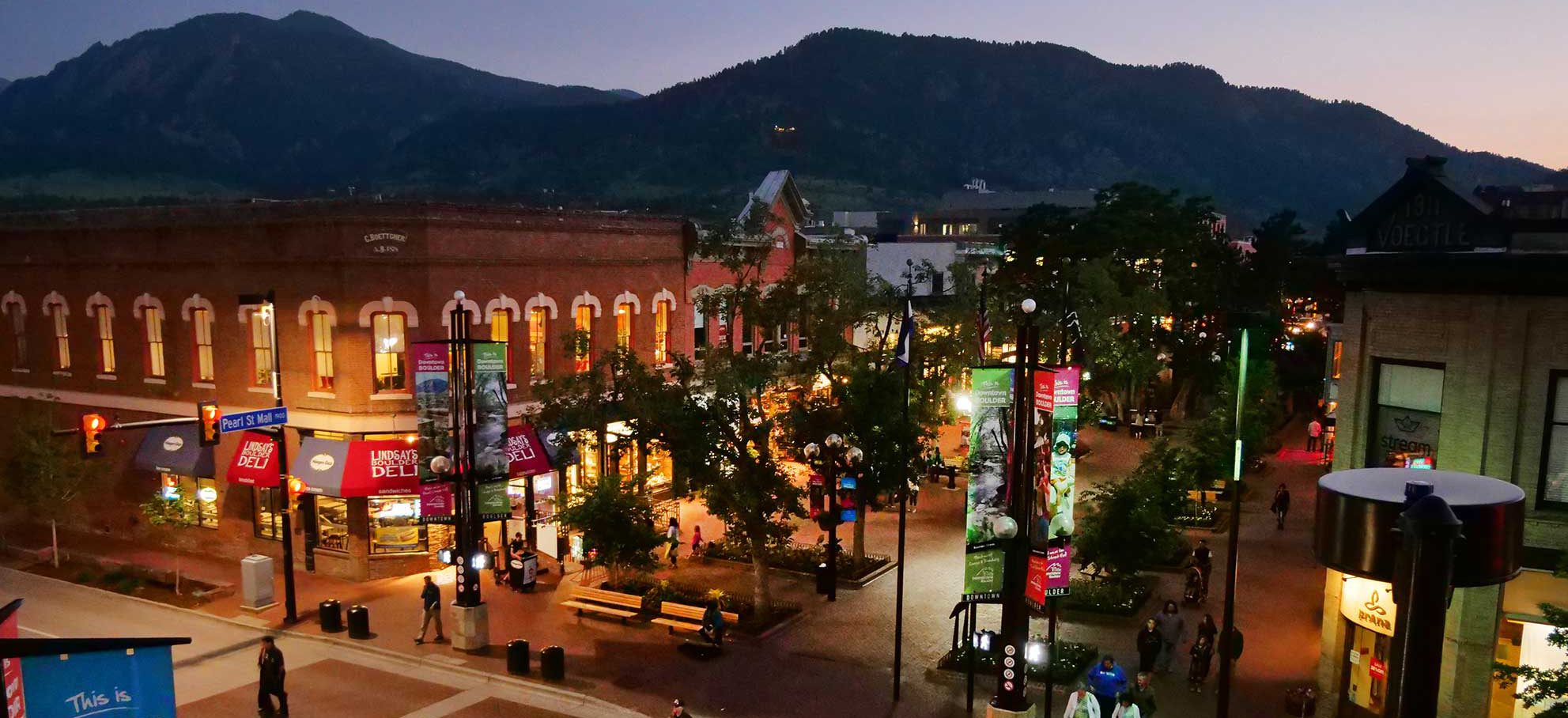 Our lively town has something for everyone:
The foodie
Named one of the foodiest towns in America, we have more than 280 restaurants downtown alone—many fit for a college student's budget.
The music fanatic
We have two iconic venues—The Fox Theater on The Hill and the Boulder Theatre, located downtown.
The athlete
Run, walk, bike or hike. Boulder is home to athletes in all forms. We have more than 300 miles of dedicated bike routes and host more than 45 running races a year.
The artist
Try out the Boulder Museum of Contemporary Art (BMoCA) or the Dairy Arts Center.
The researcher
We have partnerships with more than 50 federal research labs along the Front Range. Check out the National Center for Atmospheric Research (NCAR) or the National Oceanic and Atmospheric Administration (NOAA) and let your curiosity run free.
The naturalist
Less than 10 miles from the heart of downtown, Boulder Falls is fed by North Boulder Creek and drops a breathtaking 70 feet. Follow Canyon Boulevard west. The falls are on the right and parking is on the left.
The photographer
Chautauqua Park is a national historic landmark and the site of lectures, concerts and other events throughout the year. Regardless of season, the scenery at Chautauqua is worthy of a photo.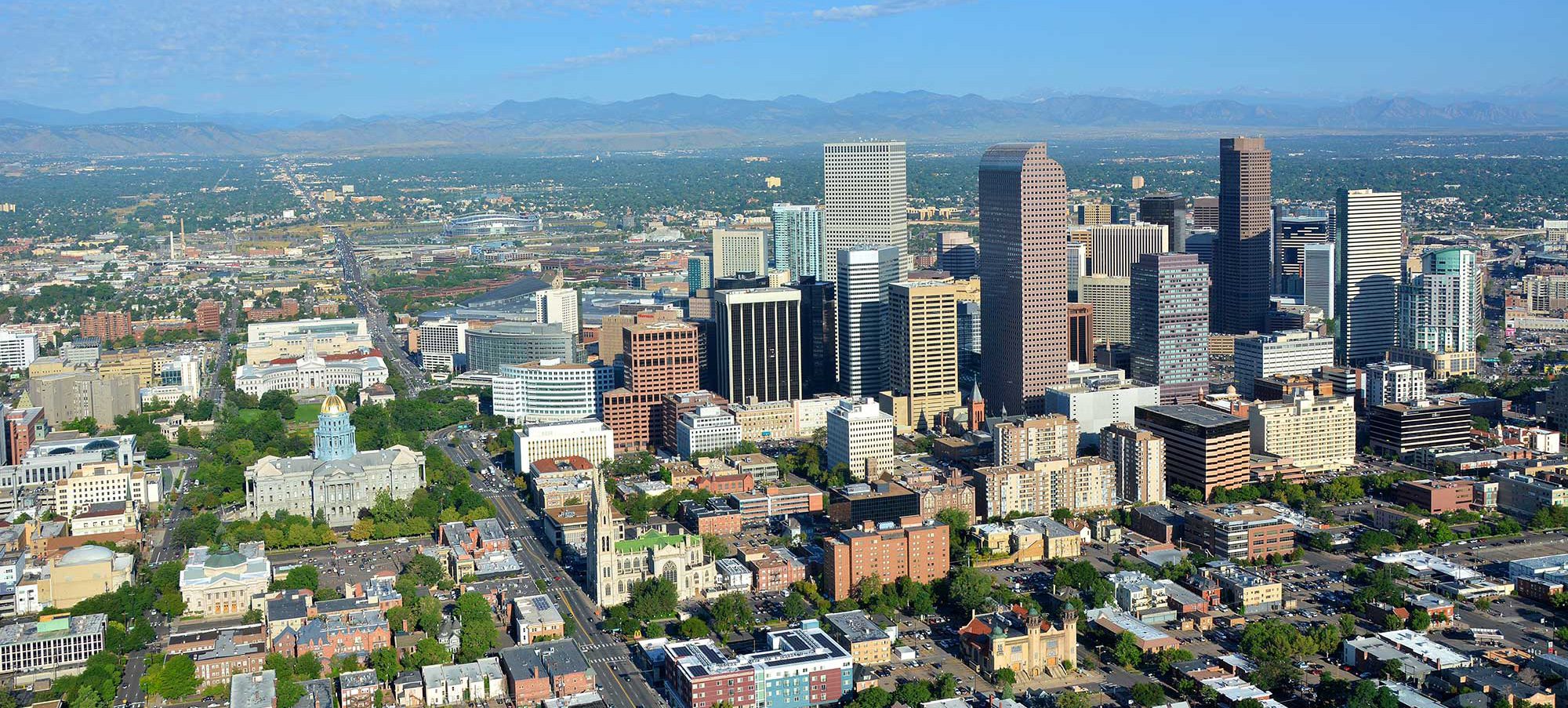 Denver
Denver, Colorado's capital, is only 30 miles from Boulder and is one of the fastest growing cities in the United States. Denver has some of the finest museums in the West, including the Denver Art Museum, the Black American West Museum, the Denver Museum of Nature and Science and the History Colorado Center. Other attractions include the Colorado State Capitol and the Denver Zoo.
For more information, visit denver.org.
Rocky Mountains
Colorado is packed with things to do year-round, whether it's hiking in Rocky Mountain National Park (only 45 miles from Boulder), riding a historic steam locomotive through spectacular mountain canyons, relaxing in natural hot springs, whitewater rafting, fishing, skiing, or enjoying one of the state's many music, art and food festivals.
For more information, visit colorado.com.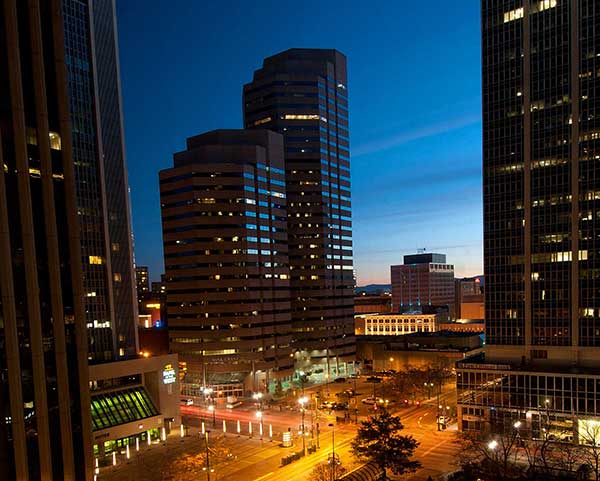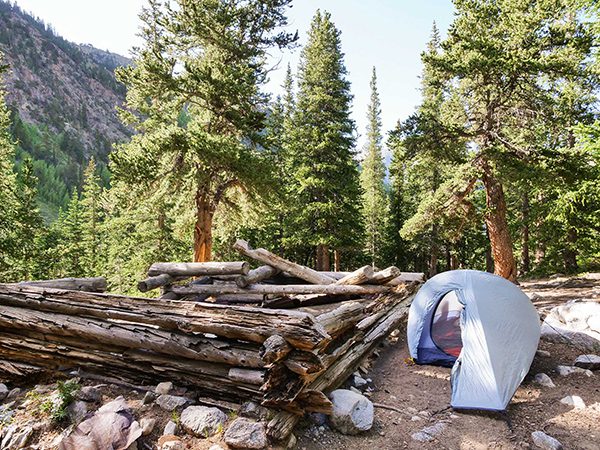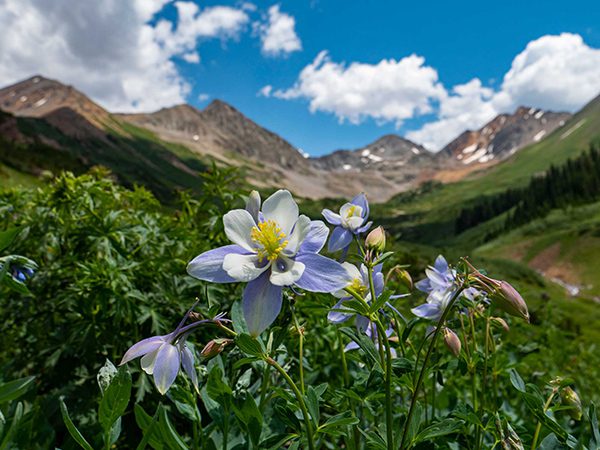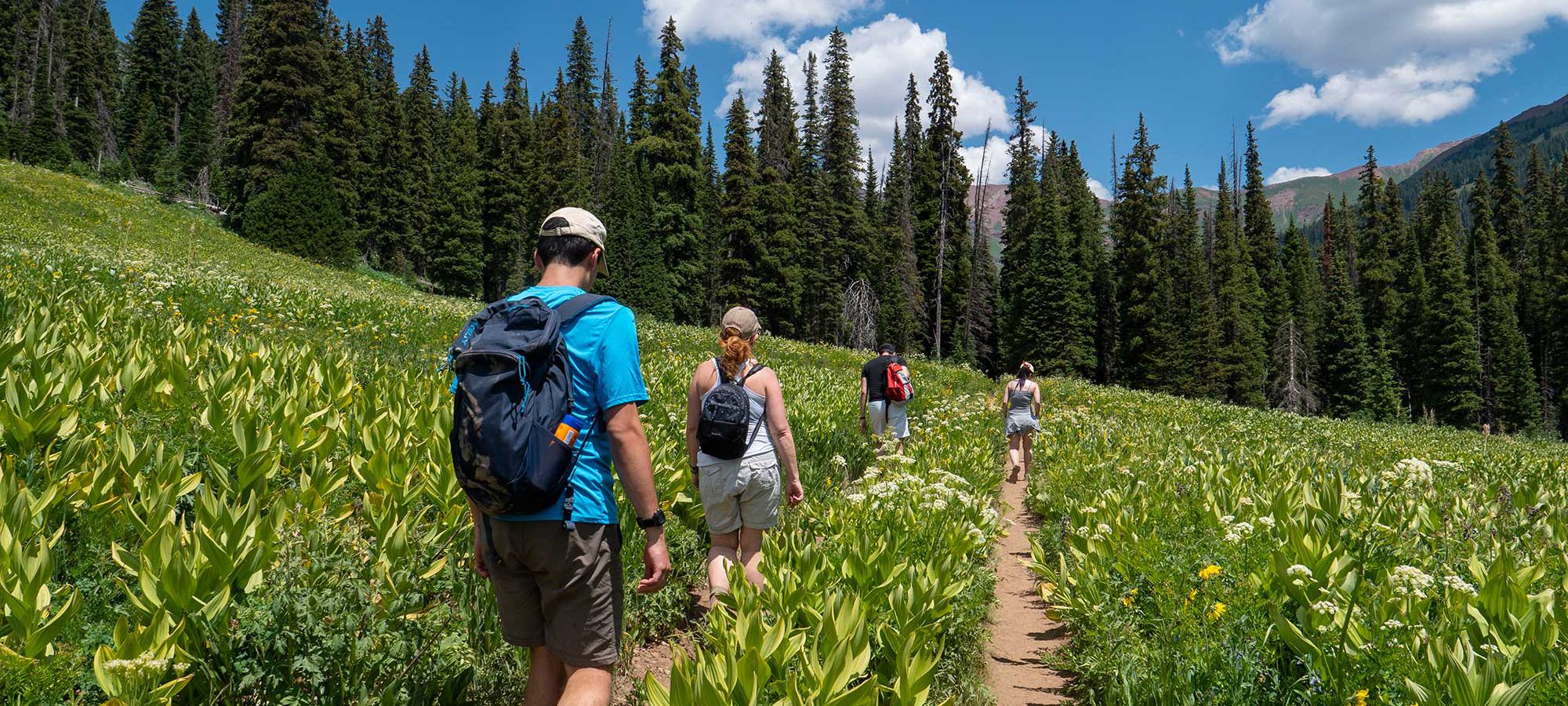 Beyond campus: Recreation
Colorado is home to some of the most beautiful mountain locations, perfect for skiing and snowboarding during the winter, and camping, hiking and fishing in the summer.
Hit the slopes
Some of the best downhill skiing and snowboarding in the world is available a relatively short distance from Boulder, including
Aspen
Breckenridge
Copper Mountain
Eldora
Snowmass
Steamboat Springs
Vail
Winter Park
For more information, contact:
Colorado Department of Transportation Information
Hotline, 303-639-1111, cotrip.org
Colorado Ski Country Report, coloradoski.com
Hit the trails
The city of Boulder is surrounded by 45,000 acres of protected open space, and more than 300 miles of bikeways run through town. Hiking, biking and climbing are among the most popular outdoor activities in Boulder. Boulder Creek offers opportunities for kayaking, tubing and fly fishing.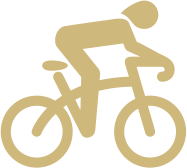 For the BIKER:
Boulder offers more than 300 miles of dedicated bike routes.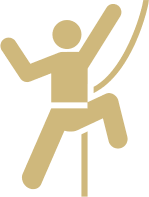 For the CLIMBER:
Boulder's Flatirons attract world-class climbers each year.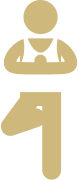 For the YOGI:
Boulder has the most yoga studios per capita in the U.S.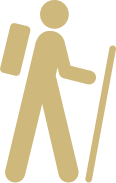 For the HIKER:
We have more than 145 miles of trails for your hiking pleasure.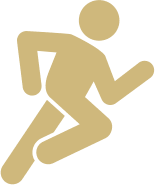 For the RUNNER:
Boulder County hosts more than 45 running races a year.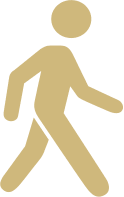 For the WALKER:
Boulder is one of only 16 Gold-level Walk Friendly Communities in the U.S.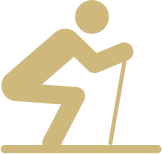 For the SKIER:
Boulder is a gateway to many of the 25+ ski resorts in Colorado.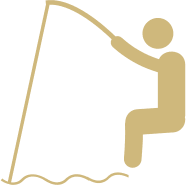 For the ANGLER:
South Boulder Creek, just four miles from campus, is well known for its fly-fishing.