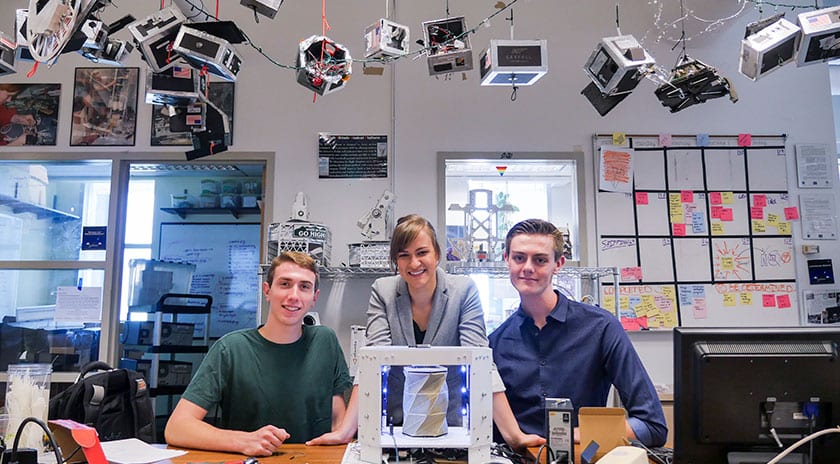 Research at CU Boulder encompasses thousands of scholarly, scientific and creative endeavors at any given time, resulting in new knowledge, technologies and creative work that advance the economy, culture and health of Colorado, the nation and the world.
Our undergraduate students work with faculty members to participate in ground-breaking research.
Undergraduate Research Opportunities (UROP):
UROP supports research partnerships between faculty and undergraduate students from numerous academic areas.
Biological Sciences Initiative (BSI) Scholars in STEM Undergraduate Research:
This program provides an hourly wage to undergraduate students who want to gain research experience.
Discovery Learning Apprenticeship Program:
Our undergraduate engineering students can earn hourly wages while engaging in research with faculty and grad students.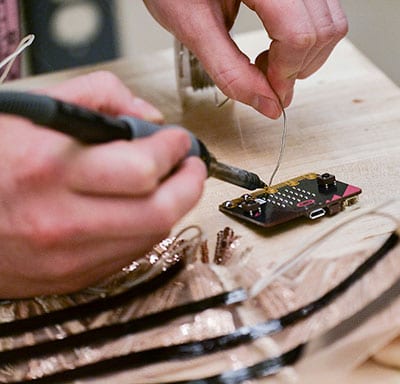 Graduate students are integral to our research endeavors. Each of our nine colleges and schools provides an array of research opportunities for graduate students.
Student researchers & entrepreneurs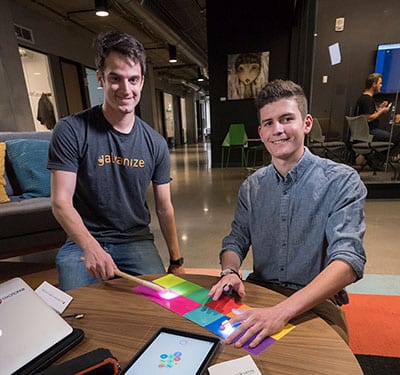 Steven Dourmashkin
Turning color into music
Steven Dourmashkin (far left), an aerospace engineering graduate student, launched Specdrums, app-connected rings people wear on their fingers that turn color into sound. With the app, users assign musical notes and sounds to specific colors. Tapping the ring on a color plays the designated sound. People can use Specdrums' database of sounds or record their own sounds to create a short musical piece.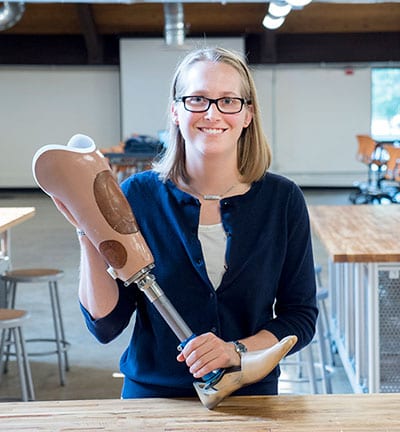 Madalyn Kern
Reimagining prosthetic legs
Madalyn Kern, (MechEngr'16), whose work focuses on medical device design, realized that amputees needed prosthetics that could adapt to their changing bodies. She created ReForm, an adjustable socket for prosthetic legs. The invention earned her and her team honors at the 2017 New Venture Challenge and boosts the chances the innovation will be transformed into a practical solution for amputees around the world.
Leading the race in space
CU Boulder is the only university in the world to design and build instruments sent to all eight planets in the solar system, plus the dwarf planet Pluto.
Building a performance nutrition powerhouse
Sports physiologist and CU PhD alumnus Allen Lim started Boulder-based Skratch Labs with a mission to provide people with the inspiration, life skills and products to take better care of themselves and their families.
Laboratory for Atmospheric and Space Physics
The Laboratory for Atmospheric and Space Physics (LASP) has been part of CU Boulder since its inception in 1948. LASP is the only research institute to design, build and launch instruments to all eight planets and Pluto. LASP educates the next generation of space scientists and actively influences the future of space exploration.
CU and Boulder, a billion-dollar biotech destination
The contributions of National Medal of Science awardee Marvin Caruthers and Nobel laureate Tom Cech provide a powerful catalyst for science, engineering and medical disciplines to create high-tech solutions to biomedical problems. Their pioneering work has made CU Boulder a destination for DNA and RNA research and an entrepreneurial powerhouse.
Michael Theodore: Merging art and technology
In 2011, Michael Theodore received a grant from CU's Innovative Seed Grant Program that helped launch a new art and technology research group on campus. Inspired by bioluminescence and echolocation from the animal world, his latest large-scale piece is a technical and interactive installation of light and sound called Supraliminal that he reprograms every few days.
Ball Aerospace
Founded by CU physicists, including alumnus R.C. Mercure, Ball Aerospace plays a key role through all phases of science mission development. Ball has played an integral part in many scientific "firsts." Whether confirming the ozone hole or discovering the first Earth-sized planet in the habitable zone of another star, Ball technology makes challenging science missions possible.