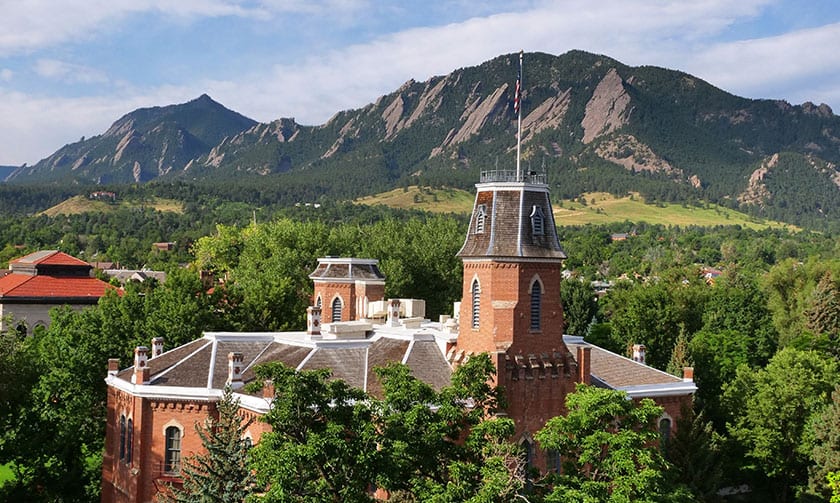 Self-guided tour: Notable places on campus
Ready to check out CU Boulder's beautiful campus? Our self-guided tour highlights some of our most notable places on campus.
Ready to check out CU Boulder's beautiful campus? Our self-guided tour highlights some of our most notable places on campus.
For reference,you can view our campus map here, or you can choose from one of our two online versions:
Online map: Explore campus with a searchable and
interactive replica of this printed map. Visit
colorado.edu/map.
Mobile app: This free app provides a GPS-enabled
virtual tour. Search CU Boulder by YouVisit LLC.
We start the tour at the CASE building; however, you can begin your self-guided tour at any point along the way.
Each number represents a stop on the tour and is reflected on the campus map.
The Center for Academic Success and Engagement (CASE, G-5) is new to CU Boulder. This center contains classrooms, offices, study nooks and information about CU Boulder.
*Photo op: Take in the beautiful views and grab a photo
with the buffalo statue on the fourth-floor balcony.
The University Memorial Center (UMC, F-5) is where students can find it all. Filled with restaurants, tables, conference rooms and the book store, the UMC is where students commonly gather to relax, eat and meet friends.
Old Main (MAIN, D-4) Our first building, Old Main, was built in 1876 with donations from our generous community. Old Main once housed the entire university, including the president, the janitor, the library and all the classrooms. The third floor of this beautiful building is home to the CU Heritage Center— a free center that showcases the history of CU Boulder.
Macky Auditorium (MCKY, D-4) Built in 1912, Macky Auditorium is one of Colorado's premier concert halls. The 2,047-seat theater hosts classical and popular musical concerts, dance performances, lectures and films. Stop by to see the beautiful interior.
*Photo op: Varsity Lake, just west of Macky Auditorium.
Norlin Library (LIBR, D-5) The library features a learning commons, a research center, team technology rooms and a coffee shop. Norlin Library also houses the Writing Center, Center for Asian Studies, Faculty Teaching Excellence Program and Honors offices.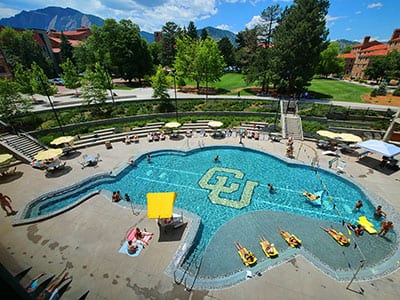 The Student Recreation Center (REC, D-6) The Rec Center was recently renovated and now houses three swimming pools (including an outdoor pool shaped like a buffalo!), an ice arena, a turf gym, 10,000 square feet of strength and cardio space, a climbing wall, six multipurpose wood courts and five fitness studios with more than 90 classes offered weekly.

Folsom Field (D-8) Our breathtaking football field is where Ralphie, our live bison mascot, can be seen charging the field at every home football game in the fall. The student section of the stadium faces the Flatirons, so students can enjoy the view of the field as well as the Rockies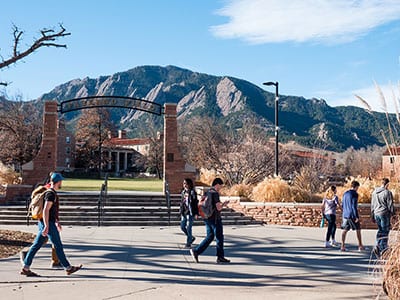 Farrand Field (G-7) This grass field features a performance stage and recreational space for students to enjoy. Some of CU Boulder's 24 residence halls frame Farrand Field, including:

Willard Hall (G-8) to the southeast, Farrand Hall (G-8) to the east and Baker Hall (F-7) to the northwest.
*Photo op: Farrand Field offers one of the best views of the Flatirons. Snap a pic and don't forget to share with #ViewsFromCU.

Roser ATLAS building (Alliance for Technology, Learning and Society) (ATLS, F-6) The ATLAS building has facilities for innovative learning, with spaces for information technology classes and research. The building features an auditorium, a 2,700-square-foot black box studio and a 1,000-square-foot production studio. It is here that art, tech and creative thoughts merge.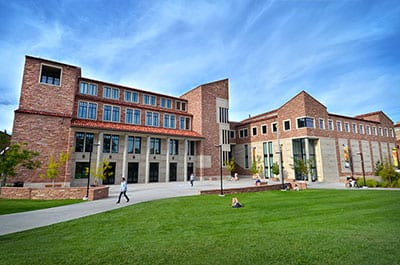 The Visual Arts Complex (VAC, F-5) This complex houses the Department of Art and Art History. It includes resources such as a woodshop, kiln yard, Visual Resources Center and more. It's also home to the CU Art Museum, which is open to all visitors.
This is the end of your tour. We hope you enjoyed your time on campus, and be sure to share your visit experience @FutureBuffs! #ViewsFromCU.

Self-guided tour: Academic buildings
Interested in seeing academic buildings while on the self-guided tour? Feel free to explore our academic buildings during normal business hours.
College of Music: Warner Imig Music Building (MUS, G-6) The Warner Imig Music Building is a large complex of practice rooms, faculty studios, offices, ensemble rehearsal areas, seminar facilities and classrooms. Our College of Music not only offers traditional degrees in music, it also provides students with opportunities in music technology and entrepreneurship.
School of Education: Education Building (EDUC, F-4) The School of Education is nestled between the outdoor Mary Rippon Theatre and the Bruce Curtis Building Museum Collections, which houses collections, research and teaching facilities. CU Boulder is home to Colorado's top-ranked school of education (U.S. News & World Report, 2020).
College of Media, Information and Communications (CMCI): The Armory Building (ARMR, C-3) Located across the street from Varsity Lake, CMCI found its home in our historic Armory building, which was originally the site of the Colorado National Guard. CMCI was established in 2015, CU Boulder's first new college in more than 50 years.
College of Arts and Sciences: Eaton Humanities (HUMN, D-5) The College of Arts and Sciences has the largest number of academic majors. And although fields of study for arts and sciences are housed across campus, Eaton Humanities is the College of Arts and Sciences' home. This building offers state-of-the-art instructional technology, classrooms and offices.
College of Engineering and Applied Sciences: The Engineering Center (EC, F-10) This center houses our engineering offices, labs and classrooms. We offer top-ranked engineering programs in Colorado and across the Rocky Mountain region, and one of our own civil engineering professors founded the Engineers Without Borders NGO.
Leeds School of Business: The Koelbel Building (KOBL, G-10) Our business school is the eighth-oldest in the United States and consistently ranked one of the best in the nation by sources like Bloomberg Businessweek and U.S. News & World Report.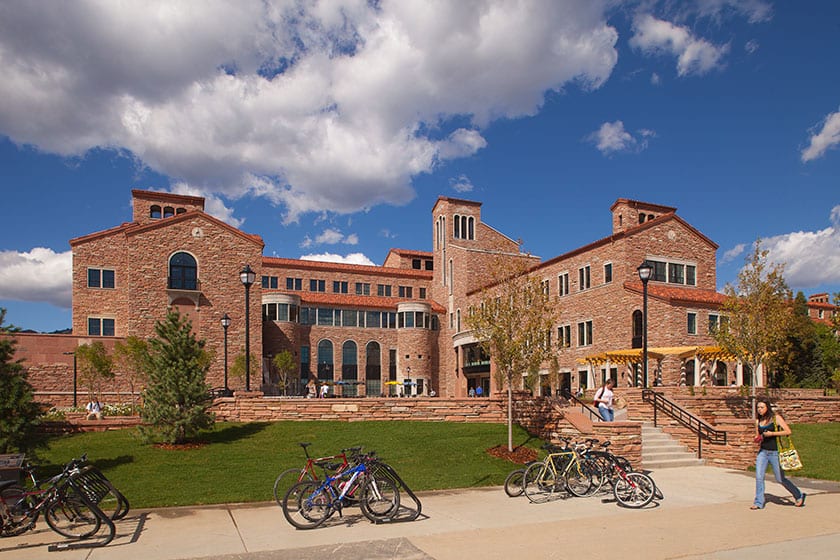 Self-guided tour: Dining options
Make the most of your tour and join us for lunch on campus. While there are many dining options on campus, we recommend checking out our Village Center or the C4C. Both offer a variety of options and are open to the public.
Village Center Dining and Commons (WVC, J-5) With housing, dining and an entrepreneurial center for students, the Village Center Dining and Commons on East Campus provides students with a full college experience. The center contains the Campus Startup Hub, a place for students to gather and grow their ideas with resources at the ready—3-D printers, kitchenette and a virtual reality station, just to name a few. During the fall and spring semesters, catch a ride to the Village Center Dining and Commons on the free Buff Bus.
The Center for Community (C4C, H-9) is an on-campus dining hall that features dishes inspired by cuisines from around the world. With 10 micro-restaurants in the hall, you can enjoy a variety of flavors. Stop in for a meal—the C4C is open to all.