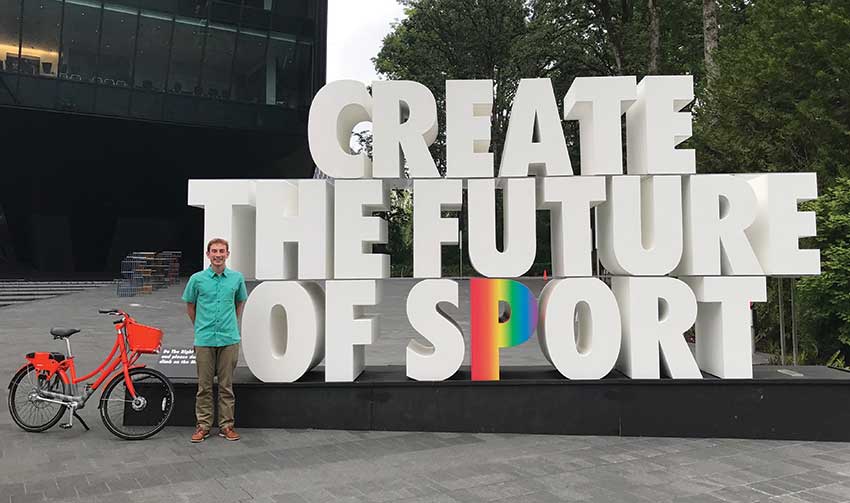 ENGINEERING THE FUTURE OF SPORT
When reality show "Driver vs. Driver 2" first premiered on the Golf Channel, Tim Slama knew he was seeing his destiny unfold before his eyes. Tim, an Honors College student and mechanical engineering and innovation management double major, had always intended to design sports equipment. Now, he had an opportunity to try his hand in front of the number one player in the industry: Wilson.
"I chose to study engineering and business at Oregon State with the end goal of designing sports equipment — specifically, golf clubs," Tim says. "I applied to be on the show because I knew it would be an opportunity to co-create a performance product with a world-class sporting goods company."
Finalists on the show not only pitch their concepts to experts, but also participate in the process of designing a driver, from concept sketches to final prototypes. Major golfers test and critique their designs before contestants pitch their products in a Shark Tank-like presentation round.
To ensure he was working at his best, Tim called upon his honors faculty for advice, drawing on lessons from Professor Bob Paasch's honors course in mechanical engineering product design, along with his experience performing undergraduate research alongside Assistant Professor Onan Demirel.
"Our work learning about generative design in Oregon State's Design Engineering Lab inspired one of my driver's key technologies," Tim says.
Tim came in second place on the final episode of "Driver vs. Driver 2" taped at Wilson Sports headquarters in Chicago. And in a surprise consolation prize, Wilson paid for Tim's final year of college.
Now, the sky's the limit.