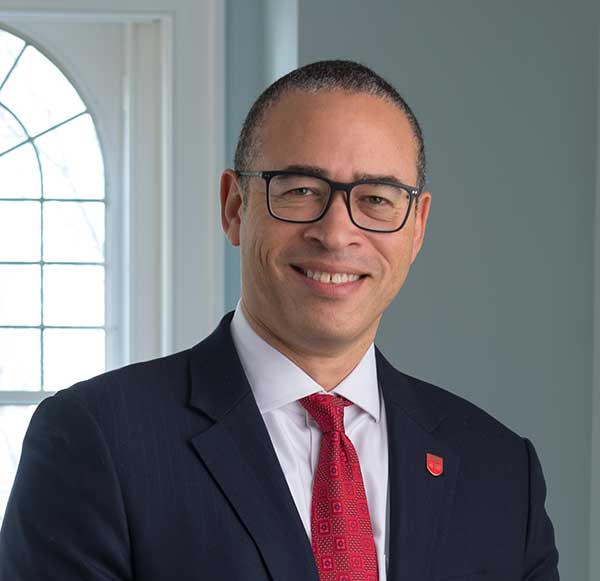 About the President
Jonathan Holloway, a U.S. historian, took office as the 21st president of Rutgers, The State University of New Jersey, on July 1, 2020. He also serves as a University Professor and Distinguished Professor. President Holloway's scholarly work specializes in post-emancipation U.S. history with a focus on social and intellectual history.
Dr. Holloway, who began his academic career at the University of California, San Diego, received a bachelor's degree with honors in American studies from Stanford University and a Ph.D. in history from Yale University. Prior to accepting the presidency of Rutgers, Dr. Holloway was provost of Northwestern University from 2017 to 2020 and a member of the faculty of Yale University from 1999 to 2017.
Welcome from the President
Welcome to Rutgers University–New Brunswick! If you are looking at this guide, chances are that you are new to the university. That makes two of us. I recently joined Rutgers as its 21st president and have been getting to know the university over the past several months.
It's a remarkable place, mixing a centuries-old history with a cutting-edge commitment to innovation in service to New Jersey and the world. For most of its more than 250 years, Rutgers was a small private college, but it has grown to become a large, comprehensive public research university—and you can see elements of that evolution in the architecture, public spaces, and landmarks of Rutgers–New Brunswick.
All across our campuses, Rutgers offers you the best. There's the raucous Big Ten excitement of football at SHI Stadium and basketball at the RAC. The bucolic quiet of Passion Puddle and the Rutgers Gardens. The cultural riches of the Zimmerli Art Museum and the New Brunswick Performing Arts Center. On the academic side, we have new facilities to match our research excellence, along with a major new state-of-the-art academic building that stands alongside our Honors College. And our students love The Yard, a dynamic combination of apartment-style residential living, eateries, and a grass commons with a giant video board along College Avenue. These are just a few of the highlights at Rutgers–New Brunswick, which I can't wait to experience firsthand.
Although the social distancing and other public health precautions necessitated by the coronavirus pandemic have kept our campuses quiet for a time, I look forward to welcoming visitors like you to a bustling, exciting, and rewarding Rutgers campus experience. In the meantime, enjoy this guide and get to know the university I am so proud to call home.
Sincerely,
Jonathan Holloway
President and University Professor
Rutgers University–New Brunswick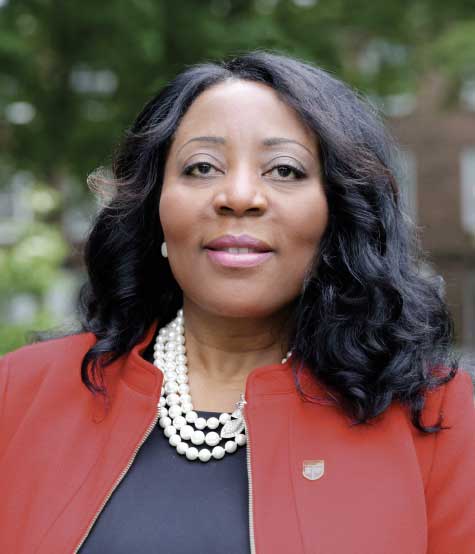 About the Chancellor-Provost
Francine Conway, a scholar and award-winning clinical psychologist widely recognized for her work in child psychopathology, was appointed the chancellor-provost of Rutgers University–New Brunswick in July 2021.
Conway previously served as Rutgers–New Brunswick provost. She is a Distinguished Professor in the Graduate School of Applied and Professional Psychology and served as dean of the school from 2016 to 2020.
Welcome from the Chancellor-Provost
It is my distinct honor to begin my service as Chancellor-Provost for Rutgers–New Brunswick. Having been entrusted with realizing President Holloway's vision for academic excellence, I have a deep and abiding respect for our proven track record of making progress when we work together. I am confident that our already successful approach to institutional excellence, combined with our commitment to providing students with a world-class education, will serve us well as we begin this next chapter in our institution's development.
As many of you may know, I have served Rutgers–New Brunswick since 2016, first as Dean of the Graduate School of Applied and Professional Psychology, and since November 2020 as Provost. I have learned a great deal from the staff without whom our university would not function; the faculty whose teaching and research form the core of our academic prestige and public service; and the students and alumni who are our institution's heart, soul, and purpose. I have been inspired by the generosity of those who support our community's advancement efforts, especially amid fiscal and health challenges. And I will not forget the care and consideration that members of our community have shown each other during these challenging times.
This coming academic year brings new opportunities for us to continue striving toward our aspiration for a beloved community. I will continue to learn from all of you and look forward to partnering with you as we develop an Academic Master Plan that charts the course for our future academic priorities. Allied with this effort, I will also convene an inclusive and diverse Student Experience Task Force to improve the ways we serve our students' needs and foster their success. Additionally, I will seek input from our staff as we look for ways to improve our operations and practices.
While we are moving forward with implementing our return-to-campus plans, we must also acknowledge the challenges that we have faced over the past academic year. This time has been marked by so many losses: the loss of life, of time with loved ones, of security, and of personal progress. It will take time to heal and find a new sense of normalcy. But we can and will recover as a community. We are, and will become, stronger together.
I encourage all members of our community to connect with me. Please use this link to share your questions, insights, and concerns. I will do my best to ensure a timely and effective response.
Rutgers–New Brunswick owes each of you a debt of gratitude for your commitment to our university's continued success throughout the pandemic. I look forward to this next phase of our recovery and to seeing you on campus.
Sincerely,
Francine Conway, Ph.D.
Chancellor-Provost, Rutgers University–New Brunswick