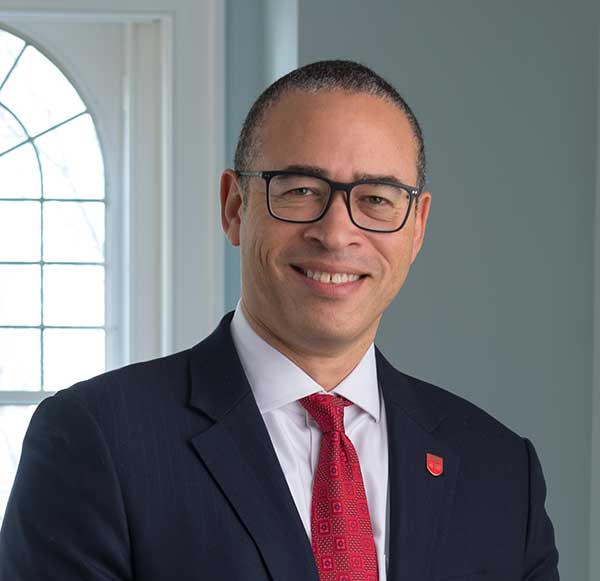 About the President
Jonathan Holloway, a U.S. historian, took office as the 21st president of Rutgers, The State University of New Jersey, on July 1, 2020. He also serves as a University Professor and Distinguished Professor. President Holloway's scholarly work specializes in post-emancipation U.S. history with a focus on social and intellectual history.
Dr. Holloway, who began his academic career at the University of California, San Diego, received a bachelor's degree with honors in American studies from Stanford University and a Ph.D. in history from Yale University. Prior to accepting the presidency of Rutgers, Dr. Holloway was provost of Northwestern University from 2017 to 2020 and a member of the faculty of Yale University from 1999 to 2017.
Welcome from the President
Welcome to Rutgers University–New Brunswick! If you are looking at this guide, chances are that you are new to the university. That makes two of us. I recently joined Rutgers as its 21st president and have been getting to know the university over the past several months.
It's a remarkable place, mixing a centuries-old history with a cutting-edge commitment to innovation in service to New Jersey and the world. For most of its more than 250 years, Rutgers was a small private college, but it has grown to become a large, comprehensive public research university—and you can see elements of that evolution in the architecture, public spaces, and landmarks of Rutgers–New Brunswick.
All across our campuses, Rutgers offers you the best. There's the raucous Big Ten excitement of football at SHI Stadium and basketball at the RAC. The bucolic quiet of Passion Puddle and the Rutgers Gardens. The cultural riches of the Zimmerli Art Museum and the New Brunswick Performing Arts Center. On the academic side, we have new facilities to match our research excellence, along with a major new state-of-the-art academic building that stands alongside our Honors College. And our students love The Yard, a dynamic combination of apartment-style residential living, eateries, and a grass commons with a giant video board along College Avenue. These are just a few of the highlights at Rutgers–New Brunswick, which I can't wait to experience firsthand.
Although the social distancing and other public health precautions necessitated by the coronavirus pandemic have kept our campuses quiet for a time, I look forward to welcoming visitors like you to a bustling, exciting, and rewarding Rutgers campus experience. In the meantime, enjoy this guide and get to know the university I am so proud to call home.
Sincerely,
Jonathan Holloway
President and University Professor
Rutgers University–New Brunswick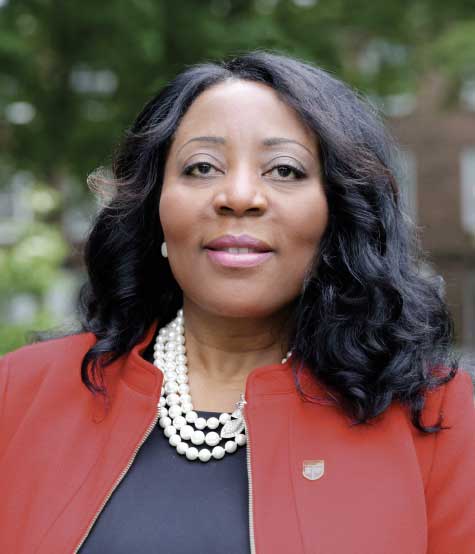 About the Chancellor-Provost
Francine Conway, a scholar and award-winning clinical psychologist widely recognized for her work in child psychopathology, was appointed the chancellor-provost of Rutgers University–New Brunswick in July 2021.
Conway previously served as Rutgers–New Brunswick provost. She is a Distinguished Professor in the Graduate School of Applied and Professional Psychology and served as dean of the school from 2016 to 2020.
Welcome from the Chancellor-Provost
Greetings from the Banks of the Old Raritan! Rutgers University–New Brunswick proudly serves as an academic powerhouse; a Top 25 public national and Top 100 world university; a wealth of diversity and connections to the nation's and the world's great employment and cultural centers; and an investor in student success.
Our high-impact programs help students reach their fullest potential. This is borne out by our high graduation rates for all students, including those from under-represented backgrounds; and by our production of students who earn prestigious, competitive national awards such as Goldwater Scholarships, Schwartzman Scholarships, and Marshall Scholarships.
We are ensuring that this foundation of success will launch our university community to an ever-brighter future through our development of the Rutgers–New Brunswick Academic Master Plan (NB-AMP), which will guide our academic enterprise over the next five years.
The NB-AMP is grounded in our university mission of improving the State of New Jersey and the public good through education, research, and service – and in President Holloway's vision of academic excellence, institutional clarity, and beloved community. We are developing the plan during the 2021-2022 academic year and will begin to operationalize it this spring and summer.
This is an exciting time for one of America's highest-ranked, most diverse public research universities. I am proud to be your partner on this journey.
Sincerely,
Francine Conway, Ph.D.
Chancellor-Provost, Rutgers University–New Brunswick