---
Despite moving to an online format because of COVID-19, Rutgers University Dance Marathon came within $86,000 of breaking last year's fundraising record in 2020 with $1,034,795 raised.

Since 1999, RUDM has raised over $7.9 million dollars for the Embrace Kids Foundation, a nonprofit organization that supports children with cancer and blood disorders.
About the Campuses
At Rutgers, there are many things to see and do. Each campus provides a full college experience, and each has a distinctive character all its own. There are classrooms, libraries, residence halls, dining halls, recreation centers, student centers, research institutes, and expansive lawns for studying, playing, or people watching. Whatever campus you are on, you will find a complete array of facilities that will give you a good feel for life at Rutgers.
Busch Campus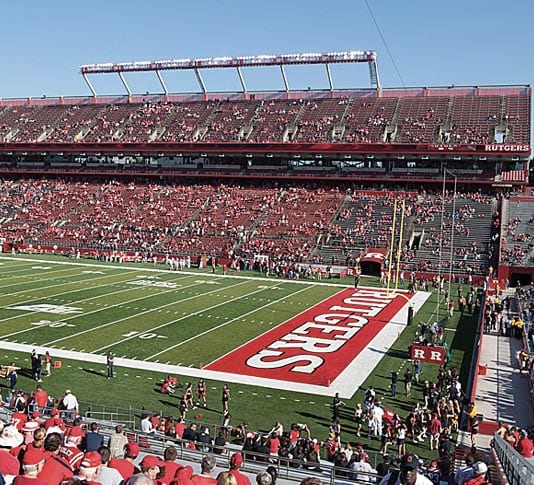 SHI Stadium, Busch campus, home of the Scarlet Knights football team
The Busch campus is where science, engineering, medical, and high-tech learning occur, where the Visitor Center welcomes all, and where fans flock to cheer the Scarlet Knights football team. Academic departments and research centers here focus on the life and physical sciences, mathematics, engineering, pharmacy, and psychology. The Robert Wood Johnson Medical School, School of Engineering, Ernest Mario School of Pharmacy, and Graduate School of Applied and Professional Psychology are based on Busch, and so are many School of Arts and Sciences departments.
Busch Quick Facts
4,688 student residents
58 academic buildings
3 libraries
14 residence halls
97 student lounges
1 football stadium
1 18-hole golf course
Livingston campus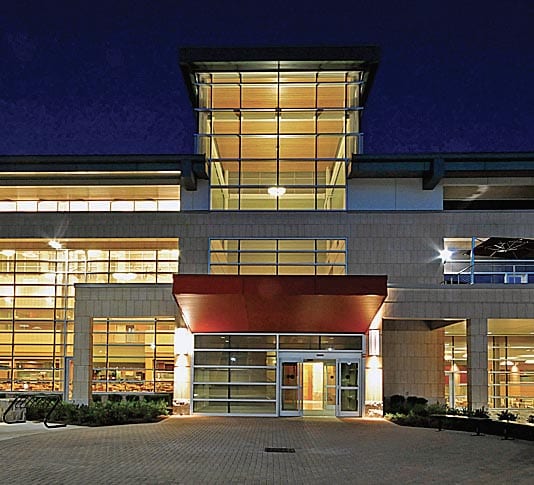 Livingston Commons, the dining hall on Livingston campus
The expansive Livingston campus is undergoing explosive growth as a burgeoning center for business and professional studies. The campus is home to a spectacular, modern building for the Rutgers Business School, to the School of Management and Labor Relations, and to numerous academic departments in the School of Arts and Sciences. A fabulous campus center, residence hall complex, dining hall, outdoor fountain, and more have made the campus a preferred living choice for undergraduates. Livingston is also the place to cheer on the Rutgers men's and women's basketball teams at the Rutgers Athletic Center, popularly known as the "RAC."
Livingston Quick Facts
3,639 student residents
20 academic buildings
1 library
13 residence halls
96 student lounges
1 basketball arena
1 316-acre ecological preserve
1 first-run movie theater
1 Jersey diner
College Avenue campus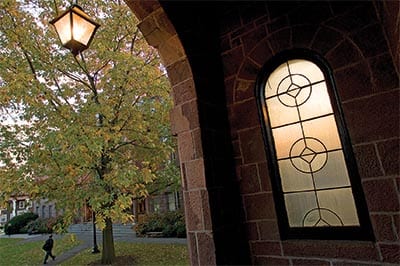 Winants Hall, viewed from Geology Hall, College Avenue campus
The historic Queens quadrangle, Voorhees Mall, Zimmerli Art Museum, Alexander Library, and fun of downtown New Brunswick help define the College Avenue campus.
Historic Birthplace
With its Federal architecture and treelined lawns, the College Avenue campus is the historic heart of Rutgers. It's a lively, urban community where you'll find cafés and shops, a world-class art museum, and students and professors strolling under the trees of Voorhees Mall or down College Avenue. The campus is home to the School of Arts and Sciences, the largest school at Rutgers; the Honors College of Rutgers University– New Brunswick; and a variety of academic departments from art history to urban studies. It's a place of endless inquiry and boundless spirit.
Downtown New Brunswick/Civic Square
Rutgers also has a strong presence in center-city New Brunswick, where our Civic Square Building houses facilities for Mason Gross School of the Arts and the Edward J. Bloustein School of Planning and Public Policy. Also downtown is a constellation of health care facilities, including the Rutgers Cancer Institute of New Jersey. You will also find the Heldrich Hotel and Conference Center, as well as many restaurants, shops, transportation hubs, and entertainment venues. See page 42 for more information.
College Avenue Quick Facts
3,185 student residents
91 academic buildings
5 libraries
16 residence halls
130 student lounges
1 world-class art museum
1 leading cancer institute
Douglass campus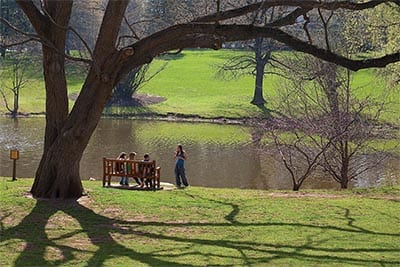 Passion Puddle on the Douglass and G.H. Cook campuses
Expansive green lawns, tree-lined paths, and Georgian Colonial architecture give the Douglass campus its quiet charm. It is a campus with deep traditions that focus on supporting women's success and addressing pressing global humanitarian issues.
The campus is home to Douglass Residential College, a challenging and supportive collegiate environment for young women interested in fostering their leadership skills. It is also where you will find many academic departments in the School of Arts and Sciences and the Mason Gross School of the Arts, the nationally prominent Eagleton Institute of Politics, the Institute for Women's Leadership, Nicholas Music Center, and Levin Theater.
Douglass Quick Facts
1,720 student residents
45 academic buildings
5 libraries
29 residence halls
48 student lounges
1 performing arts complex
George H. Cook campus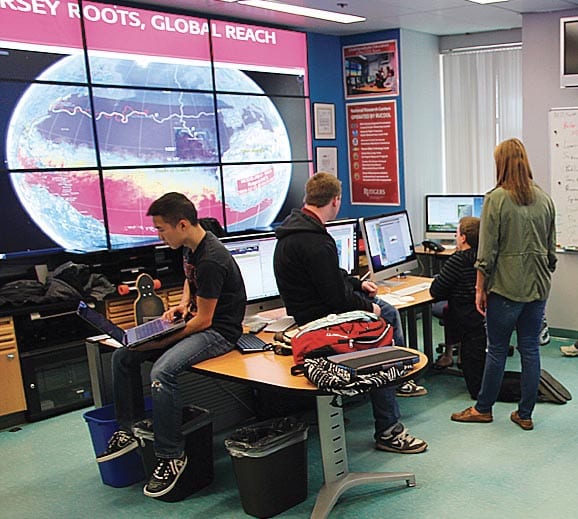 A marine and coastal sciences lab, G.H. Cook campus
With 142 acres of woods and lawns, the George H. Cook campus is known for its wide-open green spaces, the most famous being the lawn at Passion Puddle. The campus is home to the School of Environmental and Biological Sciences, which has its own faculty, state-of-the art laboratories, and a research farm. The school is a premier research center for studying the sciences, technology, business, the environment, and food, nutrition, and health.
The George H. Cook campus is a vibrant academic oasis with abundant opportunities for undergraduate students to get involved in exploring the world around them. Through hands-on research on campus, internships with partners in industry, and growing study abroad opportunities, students learn to solve problems facing the world today. Our programs prepare students for professional schools (medical, dental, veterinary medicine, and law), graduate study, industry, business, and health-related fields.
George H. Cook Quick Facts
2,034 student residents
83 academic buildings
2 libraries
25 residence halls
26 student lounges
1 livestock farm
1 display garden