---
Rutgers is ranked #29 in the nation among public colleges by Forbes: Best Value Colleges
Rutgers–New Brunswick Areas of Study
Rutgers is a major public research university with extensive academic choices. At Rutgers–New Brunswick, we offer more than 100 undergraduate majors and more than 160 graduate and professional programs. As they pursue their academic careers, our students learn from leading scholars, scientists, creative artists, and physicians and other practitioners in the university's classrooms, laboratories, patient care facilities, and performance spaces.
Pictured top: Conducting research during a Byrne Seminar for first-year students
SCHOOL OF ARTS AND SCIENCES
African, Middle Eastern, and South Asian
Languages and Literatures (AMESALL)
Africana Studies
American Studies
Anthropology
Anthropology (Evolutionary)
Art – B.A.
Art History
Asian Studies
Astrophysics
Biological Sciences
Biomathematics
Cell Biology and Neuroscience
Chemistry
Chinese
Cinema Studies
Classics
Cognitive Science
Communication
Comparative Literature
Computer Science – B.A. or B.S.
Criminal Justice
Dance – B.A.
Dentistry – B.A./D.M.D.
Ecology, Evolution, and Natural Resources
Economics
Education – 5-year B.A. or B.S./Ed.M.
English
European Studies
Exercise Science
French
Genetics
Geography
Geological Sciences
German
Health Administration
History
History/French
History/Political Science
Human Resource Management
Information Technology and Informatics
Italian
Italian Studies
Japanese
Jewish Studies
Journalism and Media Studies
Korean
Labor Studies and Employment Relations
Latin American Studies
Latino and Caribbean Studies
Law – B.A or B.S./J.D.
Linguistics
Marine Sciences
Mathematics
Medicine – B.A.M.D.
Medieval Studies
Microbiology
Middle Eastern Studies
Molecular Biology and Biochemistry
Music – B.A.
Philosophy
Physical Therapy – B.S./D.P.T.
Physician Assistant – B.A./M.S.
Physics
Planning and Public Policy
Political Science
Portuguese
Prebusiness *
Predentistry *
Prelaw *
Premedicine *
Psychology
Public Health
Public Policy
Religion
Russian
Social Work
Sociology
Spanish
Sport Management
Statistics
Statistics/Mathematics
Theater Arts – B.A.
Urban Planning and Design
Women's and Gender Studies
RUTGERS BUSINESS SCHOOL - NEW BRUNSWICK
Accounting
Business Analytics and Information
Technology
Finance
Leadership and Management
Marketing
Supply Chain Management
SCHOOL OF ENGINEERING
Aerospace Engineering
Applied Sciences in Engineering
Bioenvironmental Engineering
Biomedical Engineering
Chemical and Biochemical Engineering
Civil and Environmental Engineering
Electrical and Computer Engineering
Industrial and Systems Engineering
Materials Science and Engineering
Mechanical Engineering
SCHOOL OF ENVIRONMENTAL AND BIOLOGICAL SCIENCES
Agriculture and Food Systems
Animal Science
Biochemistry
Bioenvironmental Engineering – 5-year program
Biological Sciences
Biotechnology
Dentistry – B.A./D.M.D.
Ecology, Evolution, and Natural Resources
Entomology
Environmental and Business Economics
Environmental Planning and Design
Environmental Policy, Institutions, and Behavior
Environmental Sciences
Exercise Science
Food Science
Landscape Architecture
Marine Sciences
Medicine – B.A./M.D.
Meteorology
Microbiology
Nutritional Sciences
Physical Therapy – B.S./D.P.T.
Plant Biology
Predentistry *
Premedicine *
Preveterinary Medicine *
Public Health
MASON GROSS SCHOOL OF THE ARTS
Dance – B.F.A.
Design – B.F.A.
Filmmaking – B.F.A.
Music – B. Music
Theater Arts – B.F.A.
Visual Arts – B.F.A.
ERNEST MARIO SCHOOL OF PHARMACY
6-year Pharm.D.
SCHOOL OF NURSING
Nursing
* advising tracks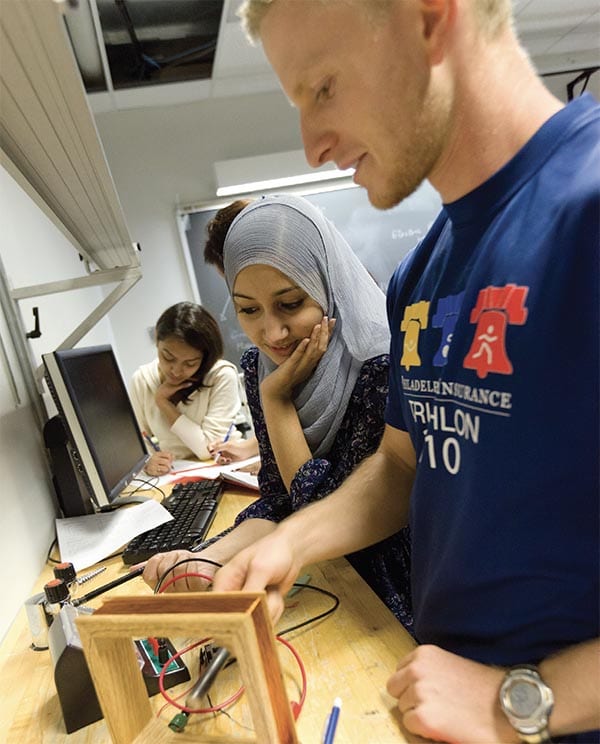 Students utilizing the resources of the Math & Science Learning Center.