RUcket List
RUcket List: 15 Things to Do at Rutgers–New Brunswick Before You Graduate
The RUcket list is a collection of experiences or achievements that a student hopes to have or accomplish during their time at Rutgers–New Brunswick. Start your journey at Rutgers and check items off your RUcket list!
Answer Your Own Great Question as an Aresty Research Assistant
The Aresty Research Assistant Program enables students to gain their first authentic research experiences by supporting faculty research projects during the academic year. Students gain valuable research skills by working hands-on with professors on forefront research projects. Students work five hours per week in a research setting and can receive up to 3 credits for this program. First-year, sophomore, and junior students with no previous research experience are eligible to apply.
Run the Big Chill or the RU Muddy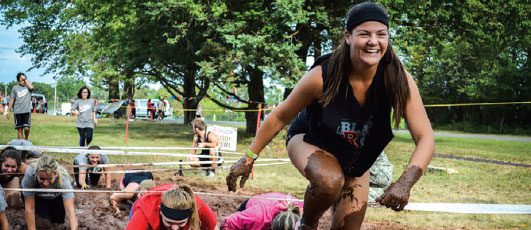 The Big Chill is an annual 5K charity race in December where the entry fee is a new, unwrapped toy for a child who lives in housing provided by the City of New Brunswick and Franklin Township. The event also benefits a number of other charities for children in need. According to CompuScore, The Big Chill has become the largest 5K in NJ and is considered by many to be one of the best-conducted races in the tri-state area.
RU Muddy is a 3.5-mile trail run with obstacles and a mud pit. There are natural obstacles, water crossings, hills, tires, water climbs, spider webs, tunnel crawls, and hurdles as well as some fun "surprise" obstacles to keep you on your toes.
Browse the Collections at the Zimmerli Art Museum
The Zimmerli Art Museum at Rutgers is one of the largest and most distinguished university-based museums in the country. With more than 60,000 works in its collection, the museum frequently updates the permanent galleries with works that spotlight an artist, period, or theme. Admission is free to all.
The museum invites the public to attend exclusive programming at Art After Hours from 5-9 p.m on the first Tuesday of every month except for May and August. There are typically tours and special performances as well as complimentary refreshments.
Do a Good Deed on an Alternative Winter Break or Spring Break
The Rutgers Alternative Winter Break and Spring Break programs provide groups of undergraduate students with a semester-long experience centered on community service. Participants learn about a particular community issue during five weeks of pre-trip meetings and a volunteer break excursion. On site, students provide necessary services and explore the culture and history of the area. New trips are added each year, and a diverse set of trips that tackle various social and environmental issues are offered. International trips are offered as well.
Stargaze at the Observatory
Members of the Rutgers community and the general public are invited to observe the night sky through the 20-inch optical telescope of the Robert A. Schommer Astronomical Observatory, which is located in the dome on the roof of the Serin Physics Laboratories on the Busch campus. The observatory is open the second and fourth Thursday of every month (weather permitting) for two hours starting at 8:30 p.m. (October through March) or starting one hour after sunset (April through September).
Stroll around Passion Puddle
"Passion Puddle" has been named one of the top 25 most romantic spots on an American college campus by College Ranker. Situated between the Cook and Douglass campuses off Red Oak Lane, the small pond is surrounded by trees and benches and is a favorite campus location for young lovebirds. According to a long-standing legend, if two students hold hands and walk around the pond three times, they will be married and live happily ever after. Passion Puddle isn't only for strolling lovers, it is also a favorite spot for those studying or enjoying a bit of nature between classes.
Cheer on the Scarlet Knights
Students can purchase discounted Rutgers football season tickets or claim free tickets on a single-game basis through the Scarlet Lottery. Admission to basketball, soccer, fi eld hockey, wrestling, track and field, cross country, tennis, gymnastics, swimming and diving, lacrosse, baseball, softball, golf, rowing, and volleyball is free with a valid Rutgers–New Brunswick undergraduate student ID. Students can join the Rutgers Riot Squad, which gives students the opportunity to fully immerse themselves in the spirt of every event. The Riot Squad creates an exhilarating fan atmosphere and enhances school spirt.
Revel at Club Alex
Over the years, students have developed the habit of referring to Alexander Library in a tongue-in-cheek manner as a nightclub, especially while studying late into the night for finals. "Sorry, I can't go out tonight," they'd say, "I'm spending the night at Club Alex." The libraries and the Office of Student Life made this joke a reality. To help students celebrate the completion of finals and as part of senior week celebrations they transformed the library's reference room into a fully functional nightclub featuring a DJ, dance floor, strobe and mood lighting, and even a bar.
Compete in the Homecoming Bed Races
Student organizations race decorated beds down College Avenue to benefit New Jersey families in need of diapers through the Cuddle Me Diaper Bank. Prizes are awarded for the fastest team, best team costumes, best-decorated bed, and the team that contributes the most diapers! The top prize is money for your student group and the highly coveted championship trophy! The Homecoming Bed Races are co-sponsored by the Department of Major Events and Programs and the Rutgers University Programming Association.
Take the Plunge at the Werblin Tower Jump
Jump from the Sonny Werblin Recreation Center's 10-meter diving tower into a 17-foot diving well. With the safety and guidance of varsity swim coach Fred Woodruff , you will experience what it is like to drop from over 30 feet into an Olympic pool.
Rock Out at Beats on the Banks
Beats on the Banks, sponsored by the Rutgers University Programming Association (RUPA), is one of the biggest concerts each semester. It has featured bands like Vic Mensa, 3Lau, Baauer, Logic, Cash Cash, A-Trak, and Chance the Rapper.
Stay on Your Feet at the Dance Marathon
Rutgers University Dance Marathon (RUDM) is the largest student-run philanthropic event in New Jersey. RUDM's mission is to provide emotional and financial support for children who are a part of Embrace Kids Foundation. RUDM participants dance to increase awareness and raise funds towards Embrace Kids Foundation's mission to support the non-medical needs of children with cancer, sickle cell, and other serious disorders.
RUDM is not limited to one weekend in the spring. It is a yearlong effort to raise funds and awareness for children with cancer and blood disorders. Embrace Kids Foundation children and their families are paired with fraternities, sororities, and organizations across Rutgers. This pairing ensures the children and their families have a support system at Rutgers and feel as though they are a part of the Rutgers community.
RUDM's efforts culminate in a weekend of a no sitting, no sleeping, Dance Marathon! The event takes place at the Rutgers Athletic Center (the RAC) and brings together over 2,000 people, including dancers and volunteers. In 2019, RUDM raised over $1.12 million and to date has raised over $9 million for Embrace Kids Foundation.
Meander the Rutgers Gardens
The Rutgers Gardens is a 180-acre botanic garden consisting of designed gardens, plant collections, and natural habitats. It is one of the few botanical gardens in the country that doesn't charge a visitors fee and is open 365 days a year.
Get Fed through Finals at the MidKnight Breakfast
MidKnight Breakfast is a tradition around the time of final exams each semester where the dining halls open and the faculty serve students breakfast from midnight to 2 a.m.
Chow Down on a Famous Fat Sandwich
A "Fat Sandwich" is a sub roll containing a combination of ingredients such as burgers, cheese, chicken fingers, French fries, falafel, and mozzarella sticks. In August 2004, Maxim Magazine's top sandwich in the nation was awarded to the "Fat Darrell," a sandwich invented by a student named Darrell Butler.