The Rutgers University Alumni Association
Scarlet Forever. Scarlet Together.
The moment you graduate from Rutgers, you become a member of the Rutgers University Alumni Association (RUAA). That means belonging to a worldwide community of more than 500,000 Rutgers graduates. The RUAA offers tremendous potential for networking, getting back in touch with friends, participating in alumni events, and staying scarlet forever.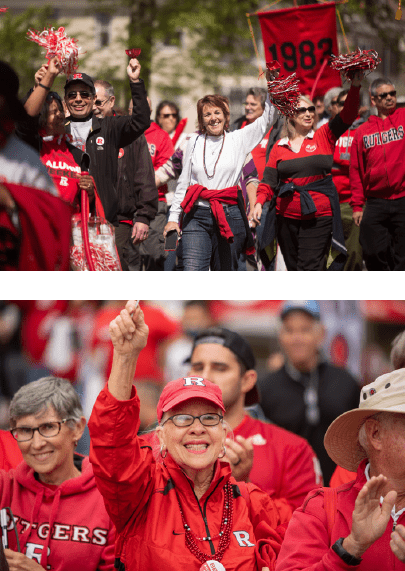 Membership is free for life and begins automatically upon your graduation from Rutgers. When you stay connected to the university community through the RUAA, you gain access to a wide range of innovative programs, helpful services, and rewarding volunteer opportunities.
Alumni groups are found all over the globe and build connections based on interests, school affiliations, or geographic areas.
Volunteer opportunities empower alumni to support Rutgers while making a difference in their communities.
Newsletters, social media, and other communication channels keep alumni informed about what's happening at Rutgers and across the global alumni community.
Special events bring alumni together through a variety of digital platforms for entertainment, learning, and family-friendly interaction. In-person programs, including sports and travel, are also vital to the alumni experience and will resume as soon as possible.
As students or alumni, no matter where you are in the world, you're part of the Rutgers family. Visit Ralumni.com to learn more about your lifelong Rutgers experience!
Rutgers Alumni House at Van Nest Hall
19 College Avenue, New Brunswick, New Jersey 08901