Things to Do on Campus
No matter your interests, there is something for everyone at Rutgers! From academics to the arts and athletics, our hope is that you find what you're looking for and have a great time doing it! Here are things to do on campus. Have fun.
Busch campus
Show your spirit at a football game at SHI Stadium.
admission.rutgers.edu/stadium
Play a game of golf at the 18-hole, PGA-sanctioned Rutgers Golf Course.
golfcourse.rutgers.edu
Gaze at the stars at the Robert A. Schommer Astronomical Observatory, located in the dome on the roof of the Serin Physics Building. Public viewing takes place the second and fourth Thursday night of each month.
observatory.rutgers.edu
Take the road less traveled by biking or walking on the Bike Paths.
ipo.rutgers.edu/dots/bikes
Take a dip with Family Swim at the Sonny Werblin Recreation Center, just one of many Rutgers Recreation activities open to the general public for a small fee.
admissions.rutgers.edu/familyswim
Explore the floor of the Life Sciences Building atrium, which depicts microscopic to macroscopic life forms with 360 bronze sculptures embedded in the floor, the work of sculptor Michele Oka Doner.
admissions.rutgers.edu/lifesciencesbuilding
Livingston campus
Take in a first-run movie at Rutgers Cinema in the Livingston Plaza.
rutgerscinema.com
At the RutgersZone, watch your favorite teams on one of nine flat screen TVs, including a 93-inch video wall; challenge your friends to a game of skeeball, pool, air hockey, basketball, shuffleboard, and more; or indulge in one of our signature ice cream cones, floats, milkshakes, desserts, or appetizers.
zone.rutgers.edu
Explore one of the largest patches of old-growth forest in our area at the Rutgers Ecological Preserve.
ecopreserve.rutgers.edu
Cheer on the Scarlet Knights men's or women's basketball teams to victory at the Rutgers Athletic Center (RAC).
scarletknights.com/facilities/rutgers-athletic-center-rac-/1
Catch some rays, see Rutgers' 1.4 megawatt solar farm and 8 megawatt solar parking canopy on the Livingston campus, which combined supply 60% of the power on the campus.
admissions.rutgers.edu/solar
Stroll by the water jets in the fountain on Livingston for a quick cool-off on a hot summer day.
nb.rutgers.edu/about-us/livingston-campus
Purchase all your tech needs at kite+key, (the Rutgers Tech Store), get a haircut and style at The Wright Cut, enjoy fresh yogurt, Asian Fusion, or Mexican grill.
theplaza.rutgers.edu
Paddle the D&R Canal in a canoe from the Outdoor Center and enjoy the fall foliage, winter scenery or spring blooms!
admissions.rutgers.edu/outdoorrecreation
Visit the Rutgers Team Shop at the Athletic Performance Center
shop.scarletknights.com
College Avenue campus
Check out the mastodon and other skeletons and fossils at the Rutgers Geology Museum.
geologymuseum.rutgers.edu
View the collection of 60,000 objects at one of the largest and most distinguished university-based museums at the Zimmerli Art Museum.
zimmerlimuseum.rutgers.edu
Stroll among historical buildings on the Old Queen's campus.
admissions.rutgers.edu/oldqueens
Shop for books, school supplies, Rutgers clothing, and gifts at the Barnes & Noble at Rutgers, the university's official bookstore.
Rutgers.bncollege.com
Climb the rock wall! It's free to all Rutgers students and costs $5 for day passes for non-student guests.
admissions.rutgers.edu/rockwall
Sit on the Sign of the Red Lion Bench made from the original stones from the tavern where the earliest classes at Queen's College were held. (Queens College is the name on the colonial charter that represents the founding of Rutgers, The State University of New Jersey.)
nb.rutgers.edu/about-us/college-avenue-campus
Find one-of-a-kind book and document collections at the Rutgers University Libraries.
libraries.rutgers.edu
See the works of students, faculty members, and distinguished outside artists at the Mason Gross Galleries at Civic Square.
www.masongross.rutgers.edu/visual-arts/galleries
Visit the Rutgers Alumni House at Van Nest Hall
alumni.rutgers.edu/who-we-are/alumni-houses-center/
Cook campus
Observe the animals at the George H. Cook Farm.
farmtours.rutgers.edu
Take in the beauty at the Rutgers Gardens with acres of specialized collections including a rhododendron and azalea display garden, an ornamental tree collection and a bamboo forest.
rutgersgardens.rutgers.edu
Bug out at the Entomology Museum with a collection of over 200,000 pinned specimens. Visits are by appointment only.
entomology.rutgers.edu/museum
Passion Puddle is a man-made pond with a lighted fountain, surrounded by an expanse of green, perfect for Frisbee or reading on a warm afternoon. It's a favorite place to relax amid the hectic pace of collegiate life.
Douglass campus
Take the charming Ravine Bridge, also called the "Kissing Bridge," across the scenic ravine to the Mason Gross Preforming Arts Center. Catch a performance at the Mason Gross Performing Arts Center.
Catch a performance at the Mason Gross Performing Arts Center.
www.masongross.rutgers.edu/performing-arts-center/about
At Voorhees Chapel you can find a German Schuke organ, rare in the United States.
admissions.rutgers.edu/voorheeschapel
Nearby off-campus
Hang out in downtown New Brunswick where you can find Ethiopian food, nightclubs and boutique shops just a quick stroll away from College Avenue.
newbrunswick.com
Enjoy a performance in the New Brunswick theater district.
admissions.rutgers.edu/nbtheater
Enjoy a performance in the New Brunswick theater district.
admissions.rutgers.edu/nbtheater
Take a glimpse into Piscataway's past as a port city with the Cornelius Low House.
admissions.rutgers.edu/LowHouse
Just as George Washington, Alexander Hamilton and other prominent figures, you can visit the Buccleuch Mansion, built in 1739. Public tours are held Sunday afternoons, June to October.
thecityofnewbrunswick.org/parks
Check out all the Revolutionary War sites in New Brunswick.
admissions.rutgers.edu/warsites
See replica and reconstructed 18th and 19th Century schoolhouses, homes, barracks, and more with educational workshops, seminars and lectures, exhibitions, concerts and storytelling at the East Jersey Olde Town Village.
admissions.rutgers.edu/village
Pictured Top: Rutgers University Golf Course, Busch campus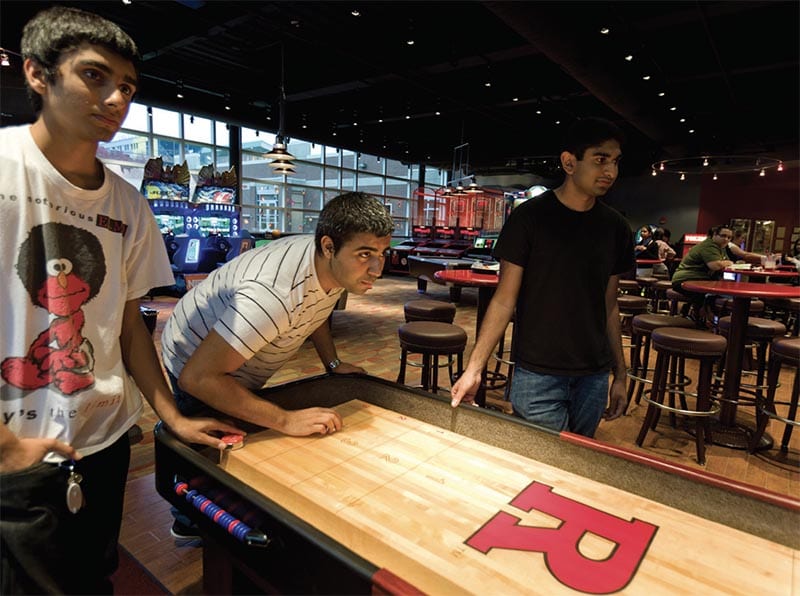 Challenge your friends to a game of Skeeball, pool, air hockey, basketball, or shuffl eboard at the RutgersZone in the Livingston Student Center.