Women's Basketball: C. Vivian Stringer
C. Vivian Stringer continues to be a pioneer, visionary and leader approaching her fifth decade of success on the hardwood, a legacy cemented in the Naismith Memorial Basketball Hall of Fame in 2009 alongside fellow greats Michael Jordan, David Robinson, John Stockton and Jerry Sloan. Stringer made history in 2018 as she eclipsed the monumental 1,000 career victory milestone, one of five NCAA Division I women's basketball coaches to reach the elite plateau.
With 49 seasons on the sidelines, Stringer became the first coach in NCAA basketball history to take three different schools to the Final Four, including Rutgers' two trips in 2000 and 2007. The Edenborn, Pa. native has compiled an overall record of 1041-421, which ranks fifth all-time among NCAA women's basketball coaching victories.
For more on C. Vivian Stringer, a three-time National Coach of the Year and member of 11 different Halls of Fame, visit ScarletKnights.com/CVS.
Career Accomplishments
FINAL FOUR: 1982, 1993, 2000, 2007
HAS COACHED 33 PLAYERS WHO HAVE WENT ON TO THE WNBA
2009 NAISMITH MEMORIAL BASKETBALL HALL OF FAME INDUCTEE
2004 OLYMPIC GOLD MEDALIST (ASSISTANT COACH FOR TEAM USA)
2020 JOHN R. WOODEN LEGENDS OF COACHING RECIPIENT
2014 WNIT CHAMPION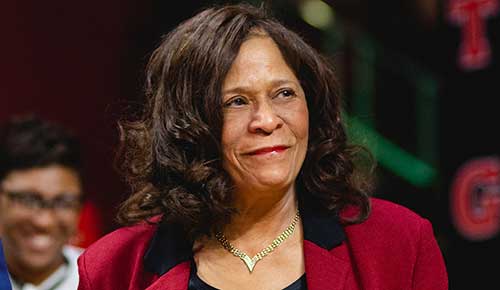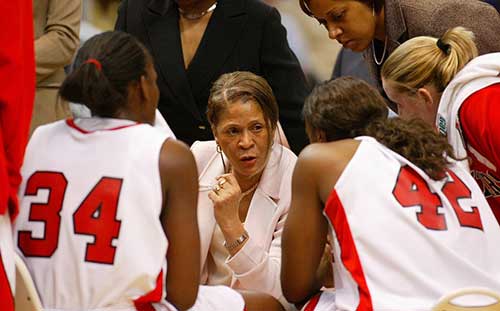 Coaching Experience
1995-Present: Rutgers
1983-95: Iowa
1971-83: Cheyney State
Personal
Full Name: C. Vivian Stringer
Birthdate: March 16, 1948
Hometown: Edenborn, Pa.
Alma Mater: Slippery Rock
Children: David, Janine and Justin
Grandchildren: Dayton and Ryker
---