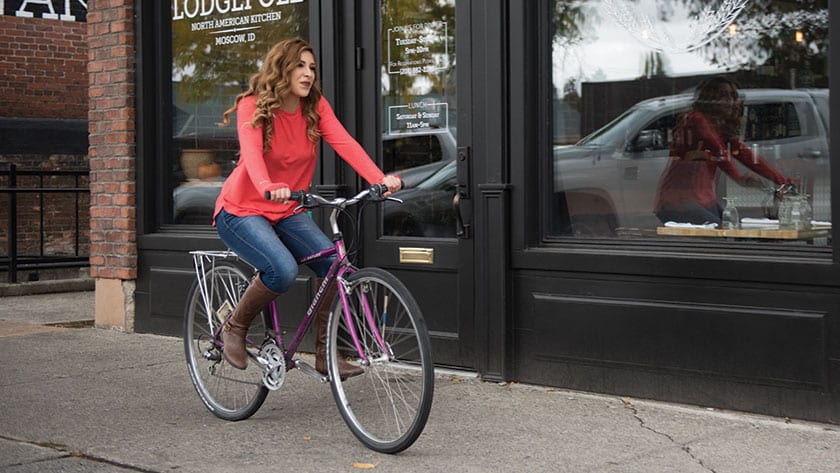 PERFECT COLLEGE TOWN.
Eat, study or unwind in and around student-friendly Moscow —ranked by Livability.com as one of the best college towns in America.
FRIENDLY PEOPLE. Be part of a community that welcomes you no matter where you're from. Moscow's residents are an eclectic group just waiting for you to join them.
WALK (OR BIKE) THERE. You're steps away from anything you might need on or near campus. Moscow was rated as Idaho's most walkable city by walkscore.com.
FOUR-SEASON FUN. You don't have to go far to hike, bike, run, ski, climb, paddle, fish or unearth a new outdoor passion. Adventure is within an hour's drive.
SOMETHING FOR EVERYONE. Muggle Quidditch match, anyone? You'll discover an amazing variety of activities packed into this little town.
LIVE MUSIC, ALL YEAR. From Vandal events and local coffee houses, to U of I's Lionel Hampton Jazz Festival (February) and main-street restaurants featuring live music, there's a variety of music for you to explore — right down the street from your back door.
GOOD EATS. Craft your own culinary masterpiece with fresh, organic ingredients from the Moscow Co-op; wander the Farmers Market every Saturday from May to October; or try something new at one of Moscow's many dining options.
FAR ENOUGH AWAY, BUT CLOSE ENOUGH TO HOME. Spread your wings, without being so far that you can't get home for breaks (and home cooking).
YOU'RE SAFE HERE. Regularly ranked in the top 10 safest cities in Idaho by Movoto, Moscow boasts an 82% lower violent crime rate than the national average, according to cityrating.com.