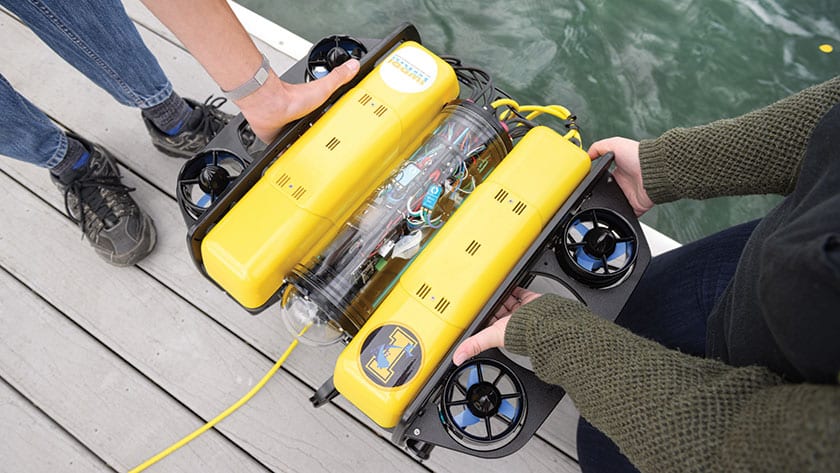 It feels good to do research that matters.
Deep-water drones and sunken ships were the makings of a memorable summer for University of Idaho Coeur d'Alene computer science majors AMANDA WARD and DEVIN DRIGGS.
Ward and Driggs were selected as 2019 Summer Undergraduate Research Fellows with the U of I Office of Undergraduate Research. The students received funding to conduct research on Sunfish, a lightweight underwater drone being studied and programmed in the U of I Computer Science department.
Ward spent the summer exploring how to use the aquatic robot to collect accurate geolocated underwater data, while Driggs focused on improving the code that's used to program the technology. They collaborated with scientists from across the university, including researchers from the Idaho Water Resources Research Institute and the Center for Ecohydraulics Research in Boise.
"To be able to be on a project that is cross-disciplinary, and not just strictly computer science, is a beautiful thing," Ward said.
The students' findings will be used to enhance the underwater robot so that it can eventually operate on its own with artificial intelligence. They hope to be able to set the robot free in Lake Coeur d'Alene to gather samples and other data that can help scientists study the lakebed and water issues.
"It feels good to do research that matters and to know that the work I'm doing now will have a positive impact on my community," Ward said.
As a side summer project, Ward and Driggs partnered with the North Idaho Museum to explore sunken ships in Lake Coeur d'Alene. They practiced navigating Sunfish and tested its ability to track coordinates and capture video.
"It was tons of fun," Ward said.
Sunfish is the newest of the Computer Science department's three aquatic robots. Catfish is the original deep-water drone. Minnow, the miniature model, is used to test run the technology in a small plastic pool at the robotics lab.
Eventually, the Idaho Water Resources Research Institute may use the aquatic robots to better understand Idaho's vast waterways.