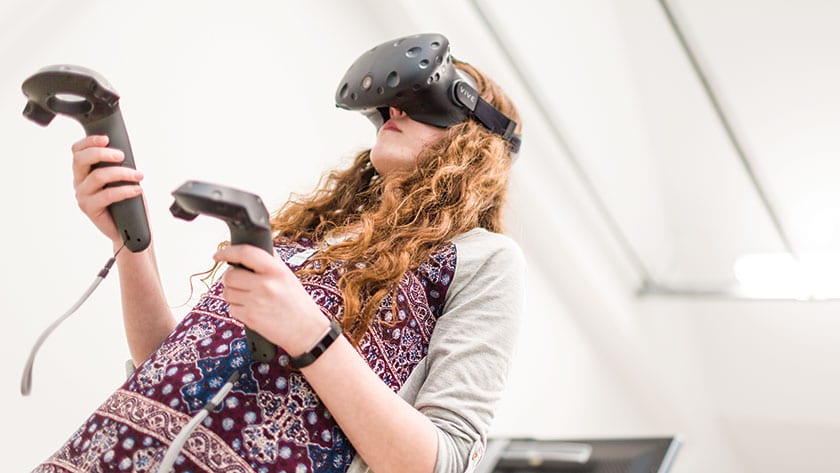 2/3
of U of I Undergraduates participate in hands-on research
Researchers in Moscow create virtual environments to study weather, wildfires and flooding. Scientists in Boise use virtual reality to better understand autism. Coeur d'Alene teens explore building virtual worlds for gaming and simulation.
University of Idaho's VIRTUAL TECHNOLOGY LABORATORIES (VTLs) are at the center of these and other innovative projects — projects designed to have a real-world impact in the communities around us. Led by faculty and students in U of I's College of Art and Architecture and with locations in Moscow, Coeur d'Alene and Boise, the VTLs are used across the state to create virtualizations and simulations solving critical problems in Idaho and in communities everywhere.
At the VTL in Moscow, U of I faculty and students — supported by a National Science Foundation grant — created a virtual tool that's helping scientists in Idaho, Washington and Oregon visualize extreme weather patterns and hazards, like wildfire, land erosion and water issues. Already, the tool has proven useful in investigating problems threatening Idaho communities, such as algae blooms in Fernan Lake and metal contamination in Lake Coeur d'Alene.
Additionally, Moscow-based faculty and students built a virtual interface that the U.S. Forest Service uses to visualize how drought and flooding affect erosion.
This fall, the newest VTL opened at U of I Boise Center, where researchers are working to tackle challenges in the medical community. Currently, the Boise VTL team is housing and conducting research for the Autism Cross Reality Institute to better understand how people with autism respond to select scenarios through cognitive and emotive monitoring. Virtual technology and design students will help create sensory environments for the project.
Access to U of I's VTLs extends beyond the campus community. Regional high school students are also using the VTLs to discover careers in the virtual technology and design field. Through workshops hosted at U of I's VTL, teens are gaining hands-on practice with virtual technology and a preview of what it's like to work in the gaming and simulation industries.