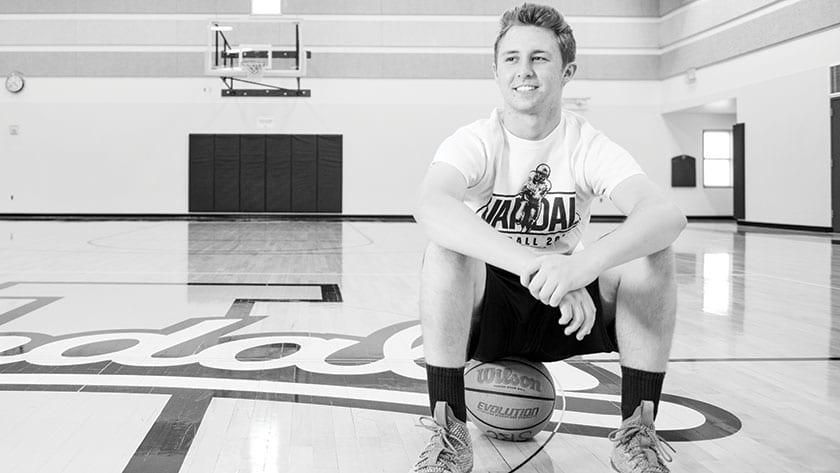 Chase Thompson
exercise, sport and health sciences
Troy, Idaho
Discovering the


VALUE


of a Top-Ranked Education
#1 BEST VALUE university in Idaho
$91.7K
median salary for U of I graduates in mid-career.
At U of I, you'll benefit from the affordability of a major state university, while gaining a high-quality, high-value education that promises you a bright future. Compared to Idaho's other four-year public universities, we have the highest graduation rate, and our alumni earn the highest early-and mid-career pay. Now, that's what we call an excellent return on your investment.
CHASE THOMPSON always had his sights on University of Idaho.
"It was my first choice in high school, mainly because I wanted to do something sports related, and the athletic training program here is really good," said the U of I sophomore.
Just a short time ago, however, Thompson was unsure U of I
would be an option for him. Thompson — who grew up in Missoula, Montana, and later moved to Troy, Idaho — was diagnosed with leukemia as a high school freshman. After three and a half years of treatment, he won the fight. Thompson still wanted to go to U of I, but he thought it might not be financially possible — even though tuition was more affordable than other colleges.
A member of the university's senior leadership heard Thompson's story. Determined to help the young student realize his dream of attending U of I, the university pulled from a combination of scholarship sources to fully fund Thompson's tuition for four years.
"My scholarship was huge for me," Thompson said. "I don't have to worry about loans and being financially strapped."
Today, Thompson is active in his fraternity, plays intramural basketball and stays fit at the Student Recreation Center. He's studying exercise, sport and health sciences, with plans of turning his lifelong passion for sports into a career as an athletic trainer.
"I'm very happy at U of I," Thompson said. "It's perfect for me."