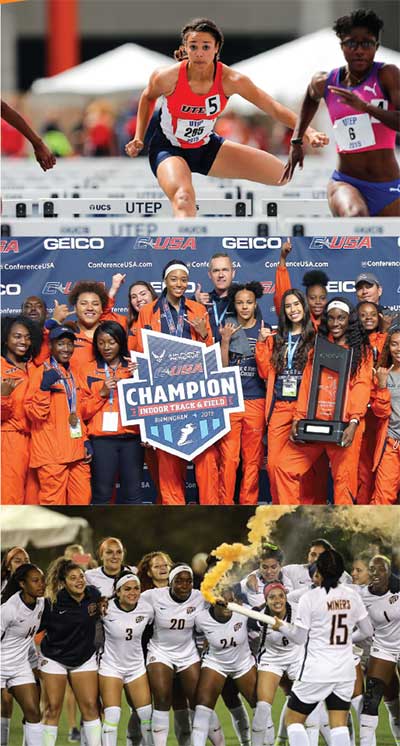 UTEP Athletics is in the midst of an Orange Revival under the energetic leadership of Jim Senter. The basketball, soccer and volleyball programs highlighted the 2019-20 campaign by making tremendous strides. There's much more excitement to come, as all 16 Miner sports programs are on a mission to compete for and win championships.
The history of UTEP Athletics is long and proud. The football team has played in 14 bowl games and produced countless NFL players. The men's basketball squad has participated in 17 NCAA tournaments. The women's basketball team has gone to the "Big Dance" twice since 2008. Overall, UTEP has captured 21 NCAA titles, including 20 in cross country and track and field.
The campus is home to outstanding athletic facilities, including the 43,000-squarefoot Foster Stevens Basketball Center, the 65,000-square-foot Larry K. Durham Sports Center and the Helen of Troy Softball Complex. Finally, there's the venerable Sun Bowl Stadium, which will receive a spectacular renovation in time for the 2020 football season, and the "Bear's Den," the Don Haskins Center, which has been the home for Miner basketball since 1977.
UTEP is home to the famed Texas Western College team that made history when it started five African-American players and won the 1966 NCAA basketball championship under Hall of Fame Coach Don Haskins. The story was chronicled in the 2006 motion picture "Glory Road." To this day, UTEP remains the only Division I school in the state of Texas to win a national title in men's basketball.