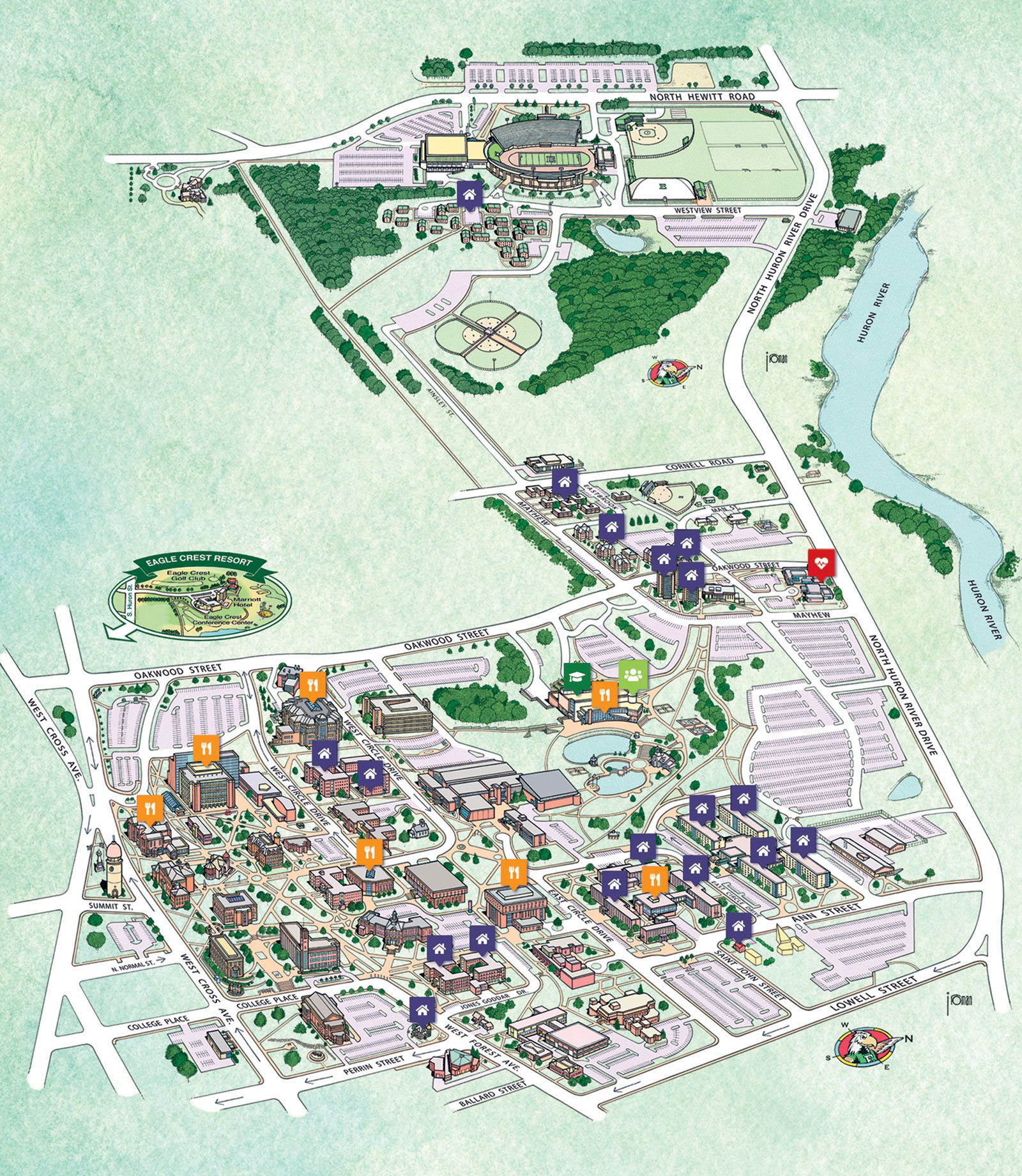 Admissions Welcome Center

Feel the enthusiasm as soon as you walk into the Admissions Welcome Center, located on the second floor on the Student Center. Set up a tour, talk to an admissions advisor, and start learning more about what EMU has to offer. See
emich.edu/visit
for more information.
Student Center

See why the EMU Student Center was named the number one student union in the country. Discover the relaxing atmosphere, eclectic dining options, wide range of shopping choices, access to student services, and quiet spaces for studying. The bookstore is located on the first floor, as is the EMU COVID-19 Testing Center. See
emich.edu/studentcenter
for a building map.
Housing

On-campus housing options include residence halls and apartments, all offering a supportive and safe living-learning environment within walking distance of academic buildings, the library, and health and wellness opportunities. Benefits also include on-site laundry, TV and study areas, free local cable TV and high-speed internet. And there's more to come. EMU and its partners will invest more than $200 million from 2022-2025 to construct new on-campus student housing, renovate existing housing, and demolish outdated housing.
Food

EEMU Dining has something for every taste, lifestyle and budget. Chick-fil-A is a popular choice on the south side of campus, in McKenny Hall. The Student Center is home to Mondo subs, Sono Latin, Build Pizza and Starbucks. The Commons, near Pray-Harrold, offers all-you-care-to-eat dining, and markets with sandwiches, soups and snacks are in Pray-Harrold, Halle Library, McKenny Hall, the Marshall Building and the Science Complex (Mark Jefferson wing). Visit
emich.edu/dining
for hours.
Health and Wellness

The IHA Health Center @ EMU sits at the corner of Oakwood and Huron River Drive. A collaboration between EMU, Saint Joseph Mercy Health System and IHA, the health center provides 7-day-aweek primary care and urgent care services to the University's students and staff plus the greater community. The newly-renovated Rec/IM building features cardio and weight room space, plus a club pool and an Olympic-sized pool. If you're hungry after your workout, be sure to check out Shake Smart and refuel.

See emich.edu/maps for more detailed information on these and other spots of interest on the EMU campus.