Native Hawaiians lived in Hawai'i for over one hundred generations with various island kingdoms. In 1810, Kamehameha I united all the islands under a single Hawaiian Kingdom.

'Iolani Palace is the only royal palace in the U.S. and had electricity five years before the White House and 17 years before Buckingham Palace.

Duke Kahanamoku was a Kanaka Maoli (native Hawaiian) and a five-time Olympic medalist in swimming. He was also the world's best-known surfer and set the standards of modern day surfing

O'ahu was divided into six moku (districts). Moku were used to govern the management of underground water resources: 'Ewa, Ko'olauloa, Ko'olaupoko, Kona, Wai'anae, and Waialua.

Each moku was divided into ahupua'a (wedge shaped land division extending from land to sea,) a total of 80 on O'ahu. The moku and ahupua'a system were designed for the most efficient food sustainability and land management.

There are two mountain ranges on O'ahu; Ko'olau Mountains and Wai'anae Mountains.
THE STATE OF HAWAI'I HAS TWO OFFICIAL LANGUAGES:
'Ōlelo Hawai'i experienced a dramatic decline in the 20th century due to an English-only policy for all schools in Hawai'i. Today, Hawaiian language is recognized as an official language and the number of those who can speak Hawaiian has grown steadily in homes and in schools.
There are only 13 letters in the Hawaiian alphabet:

"The life of the land is perpetuated in righteousness."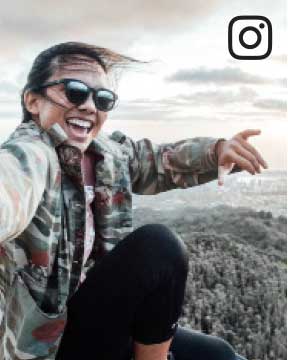 Lake Forest, California
Travel Industry Management major '18
"My favorite thing about attending UHM is the location and the people. Not only are you able to get an education, you get to live in one of the most beautiful places in the world as well as meet lifelong friends."