Seattle: An urban city with
myriad natural spaces
By Kara Patajo and Jordan Pickett
The view from Gas Works Park is
like no other with a clear sight of the
Seattle skyline, the Space Needle,
and Lake Union all from one hill.
When I first transitioned to Seattle as a UW student, I thought I was entering a highly urban environment and nothing else. I did not expect to discover such an abundance of natural spaces and to my surprise and delight, I quickly learned that my love for spending time outdoors was not going to be restricted by living in such a big city. In fact, there are many parks within walking distance from the UW campus and, of course, many more accessible by public transportation.
In total, Seattle is home to almost 500 parks and natural areas. As a port city in a state famous for its breathtaking natural wonders, Seattle offers access to a wide variety of natural environments including beaches, lakes, forested areas, and views of the Olympic and Cascade Mountains (both of which are only a few hours drive away). For my fellow nature-seekers in Seattle, here is an overview of just a few of the magnificent parks close to campus.
Gas Works Park (1.4 miles away)
One of the best parks to walk to from campus is Gas Works Park. This spot in South Wallingford, right at the tip of the north shore of Lake Union, provides the ideal place to unwind, exercise, or catch a view of the sunset. The most distinctive characteristic is the remains of the industrial plant that used to occupy that tract of land. In another life, before 1965, the park was the site of a production plant for synthetic gas.
There is a paved trail that weaves around the park and leads to the top of Kite Hill which houses a massive sundial and great vantage point to see the lake. Much of the attention the park gets nowadays is due to its spectacular views of downtown Seattle, including the Space Needle, across from Lake Union. The lake is often a hub of activity for sailboats, kayakers, and seaplanes. There are public restrooms and concessions available and a map of the park is available online.
Travel time: Under 10 minutes by car or bike (numerous Lime Bikes and JUMP bikes are scattered across campus), 30 minutes walking along the Burke-Gilman rail, or 20 minutes via bus 31 or 32.
Washington Park Arboretum (1.5 miles away)
A serene, plant-filled environment where you can connect with nature, the Washington Park Arboretum is excellently maintained. Here, you will be greeted with various types of towering trees, blossoming flowers, gardens, and plants from all over the world.
As an arboretum, there is emphasis placed on planted collections, including Japanese maples, oaks, and hollies. During the spring, Azalea Way and Rhododendron Glen are must-see spots because of their eye-catching flowers in bloom that time of the year. Ducklings and goslings are born in the coming weeks and can usually be spotted in or near Duck Bay.
Paved trails here are suitable for an afternoon stroll or a morning jog. Numerous benches line the trails which lead the way through the park's 230 acres. A map of the park can be found online.
Overall, the arboretum is a very quiet, peaceful park where it can be easy to forget that you are still in Seattle.
Travel time: 10 minutes by car, 30 minutes walking, 15 minutes by bike, or 20 minutes via buses 43, 48, or 542.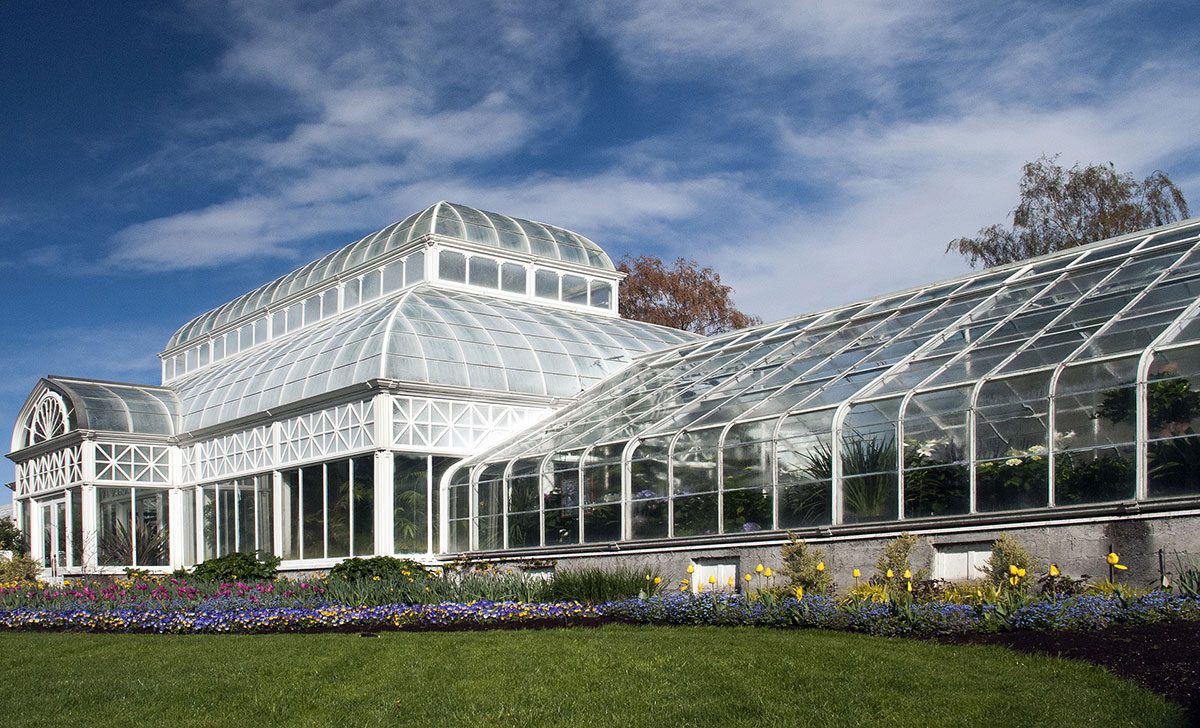 Discovery Park (about 6 miles away)
Seattle's biggest (and possibly best) park is Magnolia's Discovery Park. Over 500 acres are home to tidal beaches, a lighthouse, forested trails, meadows, streams, and cliffs over the bays.
Park visitors can view Elliott and Shilshole Bays from the upper areas of the park high above the beach. For beach lovers, you can walk down a trail to reach West Point Lighthouse and beach areas. The beach is the best
spot to see the Olympic Mountains which appear crystal clear on sunny days. Near the lighthouse, the two bays mix, creating interesting wave patterns. The lighthouse is not open to the public but is still a popular spot for photographers and others.
It is easy to spend all day here, so plan to designate a few hours for exploring this park if you want to experience it all.
Like Gas Works, this park has a fascinating history as it previously served as the site for Fort Lawton. This fort was particularly active during World War I and II as well as the Korean War.
As a result of Native American ties to the site, the Daybreak Star Cultural Center was established nearly 40 years ago. This serves as a space for events and has a Native American art gallery.
Travel time: 20 minutes by car and an hour via buses 43 and 44, or bus 33 out of Westlake in downtown Seattle.
Seward Park (about 11 miles away)
Seward Park is just about the only tract of old growth forest left within the city limits and home to the largest family of eagles in Seattle, with two nests located within half a mile of each other. The most commonly used path in the park is a 2.4 mile loop around the perimeter. More adventurous types can use one of the many hiking trails that cross through the old growth forest section of the park.

Travel time: 25 minutes by car and an hour via bus 48, or bus 50 out of Beacon Hill.
Whether you prefer lakeshores, beachfront, forested terrain, or a different natural setting, chances are that Seattle has something for you. Thankfully, living in a big city does not have to mean leaving nature behind.