1. SCHEDULE YOUR CAMPUS VISIT.
Visit us Monday-Friday or on select Saturday mornings to experience a day on campus, visit popular student spots, tour housing options and check out your college of interest.
Explore campus, learn about student life and discover signature research and learning programs at U of I.
MEET THE VANDALS — OR — AVANZA
Can't make it to campus? We'll come to you. Find an event near you.
Once admitted, keep an eye out for details about this event. UIdaho Bound is your chance to finalize housing, meet your academic advisor and get acquainted with campus.
COLLEGE OR PROGRAM VISITS
Learn about the University of Idaho through the lens of an academic college or university program. Join one of these college or program events to get a deep dive into one of your passions.
Approximate driving times to Moscow from major cities in the Northwest:
Spokane: 1.5 hours
Coeur d'Alene: 1.5 hours
Seattle: 5 hours
Portland: 6 hours
Boise: 6 hours
Idaho Falls: 10 hours
Travel to Moscow via Wheatland Express or Greyhound bus lines. Many area airports offer shuttles to Moscow.
Area airports include:
Pullman-Moscow Regional
Lewiston Nez Perce County Regional
Spokane International
NEED TO FIND A RECRUITER OR
CONNECT WITH A COUNSELOR?
Find your admissions counselor at:
uidaho.edu/cvg-assist
You have what it takes to do great things.
New discoveries and adventures await you at U of I. If you are a new first-year student entering U of I in 2023 and you are unable to sit for an ACT or SAT exam due to COVID-19, you'll be automatically considered for admission if your cumulative unweighted GPA is 2.60-4.00. If your cumulative unweighted GPA is below 2.60 (and you're unable to sit for an exam), you are welcome to apply through our Admissions Committee.
Please note, if you have a test score, you are encouraged to provide it for admission and class placement.
If you're a transfer student with more than 14 transferable semester credits, your admissions eligibility is contingent on a 2.0 GPA from all college-level study attempted at accredited colleges. Some courses excluded. Other academic departments may have additional requirements.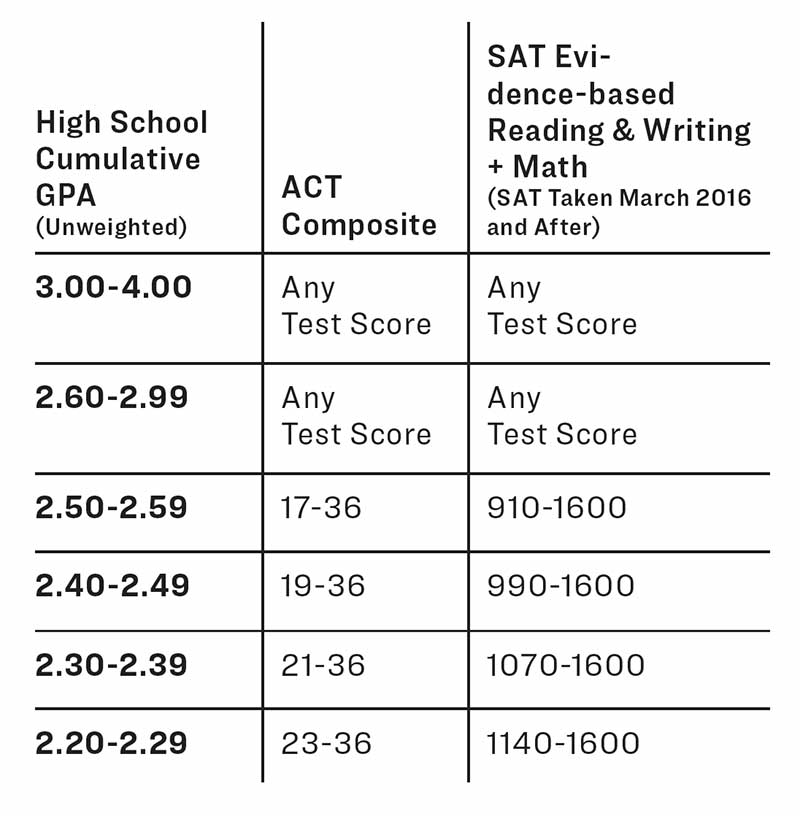 Worried about your grades? Here's the program for you: Gateway is a unique, individualized program that provides comprehensive and holistic student support empowering you to succeed.