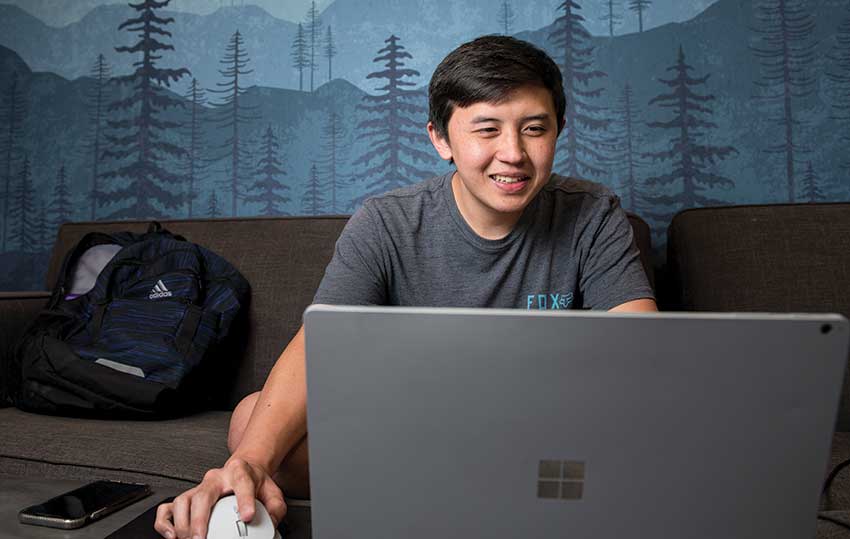 Knowledge is power.
Get ready to power up.
Our alumni have made some pretty impressive discoveries over the years — they're responsible for the computer mouse, the modern dentist chair and the artificial heart valve, just to name a few. Imagine being part of that culture of innovation as an undergrad!
Year after year, more high-achieving students choose Oregon State over every other university in Oregon. So prepare to push yourself. Never settle for good enough. Because you're not just earning a degree. You're gaining knowledge that you'll use for a lifetime.
Challenge yourself in the Honors College.
In the Honors College, Oregon State University's highest-achieving students learn in small, investigative classes with top professors, write an honors thesis and participate in outstanding research opportunities. Many Honors College graduates continue on into graduate, medical and professional schools, including Harvard, Emory, Stanford, Johns Hopkins, Mt. Sinai and Oregon Health & Science University.
Participate in cutting-edge research.
From alternative energy, to public health, to climate change, Oregon State students are encouraged to work on the problems they want to solve, while in school. Start a project of your own or partner with graduate students and professors to take your idea to the next level, with Oregon State's top-notch facilities at your disposal.
Use your degree — before you graduate.
Ready to put that knowledge to the test? You can complete an internship at any time during the academic year or over the summer. You'll gain valuable on-the-job experience and meet professional contacts who can help jump-start your career when you graduate. And in many cases, you'll earn a paycheck as well.
Get that global perspective.
Oregon State students have access to nearly 200 study abroad programs in more than 72 countries, many of which have a strong research component. Cool, right? We encourage you to look into our faculty-led programs in particular. They're great matches for students who'd like support while abroad and for those who have limited
Discover. Inquire. Find your niche.
Engineering, Computing and Information Systems
Architectural Engineering
Bioengineering
Business Information Systems
Chemical Engineering
Civil Engineering
Climate and Biosystems Modeling
Computational Physics
Computer Science
Construction
Engineering Management
Design and Innovation Management
Ecological Engineering
Electrical and Computer Engineering
Energy Systems Engineering
(OSU-Cascades only)
Environmental Engineering
Forest Engineering
Forest Engineering-Civil Engineering
General Engineering
(Freshmen Only)
Industrial Engineering
Innovation Management
(Double Degree)
Manufacturing Engineering
Mechanical Engineering
Nuclear Engineering
Radiation Health Physics
Arts, Humanities and Social Sciences
American Studies
(OSU-Cascades only)
Anthropology
Applied Visual Arts
Art
Asian Studies
Digital Communication Arts
Economics
English
Environmental Economics
and Policy
Ethnic Studies
French
German
Graphic Design
History
Interior Design
Liberal Studies
Marine Studies
Music
Philosophy
Political Science
Psychology
Public Policy
Religious Studies
Social Science (OSU-Cascades only)
Sociology
Spanish
Speech Communication
Theatre
Women, Gender
and Sexuality Studies
Science and Natural Resources
Agriculture and
Food Business Management
Agricultural Sciences
Animal Bio Health/Pre-Vet
Applied Physics
Biochemistry and Biophysics
Biochemistry and Molecular Biology
BioHealth Sciences
Biology
Bioresource Research
Botany
Chemistry
Climate and Biosystems Modeling
Crop and Soil Science
Earth Sciences
Ecological Engineering
Environmental Economics
and Policy
Environmental Sciences
Fisheries and Wildlife Science
Food Science and Technology
Forest Engineering
Forest Engineering-Civil Engineering
Forestry
Geography and Geospatial Science
Horticulture
Marine Biology
Mathematics
Microbiology
Natural Resources
Physics
Pre-Pharmacy
Pre-Veterinary Medicine
Rangeland Sciences
Renewable Materials
Sustainability (Double Degree)
Therapeutic Horticulture
Tourism, Recreation
and Adventure Leadership
Zoology
BUSINESS AND RELATED PROGRAMS
(*AACSB accredited)
Accountancy*
Agriculture and
Food Business Management
Apparel Design
Business Administration*
Business Analytics*
Business Information Systems*
Construction
Engineering Management
Design and Innovation Management
Entrepreneurship*
Environmental Economics
and Policy
Finance*
General Business
(OSU-Cascades only)
Health Management and Policy
Hospitality Management
(OSU-Cascades only)


BUSINESS AND RELATED PROGRAM (CONT)
Innovation Management
(Double Degree)*
Interior Design
International Business*
Management*
Marketing*
Merchandising Management*
Nutrition and Foodservice Systems
Tourism, Recreation and
Adventure Leadership
Health and Wellness
Biochemistry and Biophysics
Bioengineering
BioHealth Sciences
Biology
Bioresource Research
Chemistry
Education
Genetics
Health Management and Policy
Health Promotion and
Health Behavior
Human Development and
Family Sciences
Kinesiology
Microbiology
Nutrition
Nutrition and Foodservice Systems
Pre-Clinical Laboratory Science
Pre-Dentistry
Pre-Medicine
Pre-Optometry
Pre-Physical Therapy
Pre-Physician Assistant
Pre-Podiatry
Pre-Veterinary Medicine
Public Health
Radiation Health Physics
Therapeutic Horticulture
Zoology
Pre-Law
A unique 3+3 partnership with the Willamette University College of Law and the Lewis & Clark Law School offers students a path to a law degree in six years.
PRE-MEDICINE
Oregon State graduates have a nearly 70% acceptance rate into medical school. Students can apply to medical school with any major, as long as required Pre-Med courses are completed. Choose majors in science (BioHealth Sciences, Biology, Chemistry, Zoology), Engineering
(Bioengineering, Chemical Engineering, Radiation Health Physics), Health and Human Sciences (Kinesiology, Nutrition, Public Health) or Liberal Arts (History, Psychology).
Pre-Pharmacy
Most Pre-Pharmacy undergraduates choose College of Science majors. A common choice is BioHealth Sciences with a Pre-Pharmacy option.
Pre-VETERINARY Medicine
Pre-Veterinary Medicine preparation is available in the College of Agricultural Sciences (Animal Bio Health) and the College of Science (Biology).
Teacher Education
The undergraduate Education Double Degree must be paired with the choice of a primary major.
University Exploratory Studies
You don't have to decide on a major right away. Exploratory Studies can help you through the process of finding what you want to study while keeping you on track toward graduation.
Honors College
The Honors College is open by selective admission to undergraduate students from all academic majors.