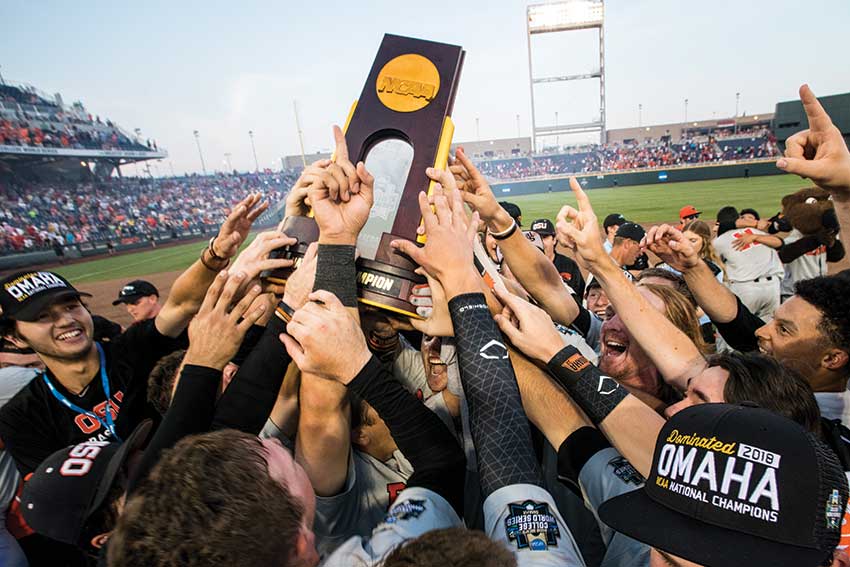 Let us show you what we're made of.
Three-Time Baseball Champions
The Beavers won their third national championship at the College World Series in 2018 in dramatic fashion. Down to their last strike against Arkansas in Game 2, the Beavers rallied to win 5-2, then dominated in Game 3 thanks to freshman pitcher Kevin Abel.
Upon their return to Oregon, more than 1,000 fans, decked out in orange and black, gathered in downtown Portland and at Goss Stadium in Corvallis to triumphantly welcome them home.
But the victories don't stop there. Seven Beavers are already building on their college success in the pros, including three who were drafted in the first round of the 2018 MLB draft (a single-year school record) and Adley Rutschman, who was drafted #1 in the 2019 MLB Draft by the Baltimore Orioles.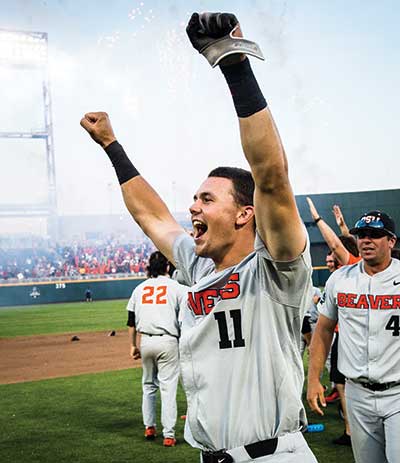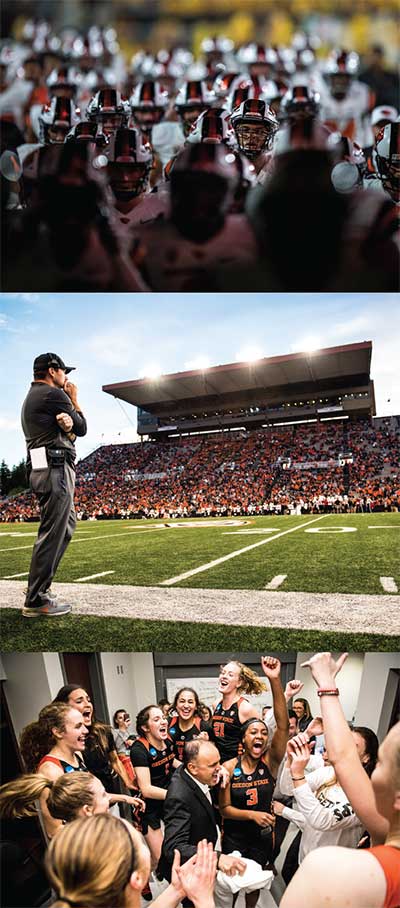 NCAA Division I Teams
Football
Baseball
Men's Basketball
Women's Basketball
Track/XC
Men's Golf
Women's Golf
Gymnastics
Men's Rowing
Women's Rowing
Men's Soccer
Women's Soccer
Softball
Volleyball
Wrestling
Football: The Return
Oregon State welcomed Jonathan Smith back to Beaver Nation in 2018. One of the most successful student athletes in Oregon State history, the former standout quarterback returns as head coach. His goal: rebuild the program and rekindle the glory from when he led the Beavers on the field from 1998 to 2001.
Women's Basketball: Poised for Greatness
Never underestimate the underdog. In 2018, Oregon State's women's basketball team advanced to the Elite 8 after beating both Tennessee and Baylor, two experienced championship favorites.
We expect great things from the Beavers this year. Our women's team has reached the NCAA tournament every year since 2014 with four Sweet Sixteen, two Elite Eight and one Final Four appearance in that span. To say we're excited about what's next would be an understatement.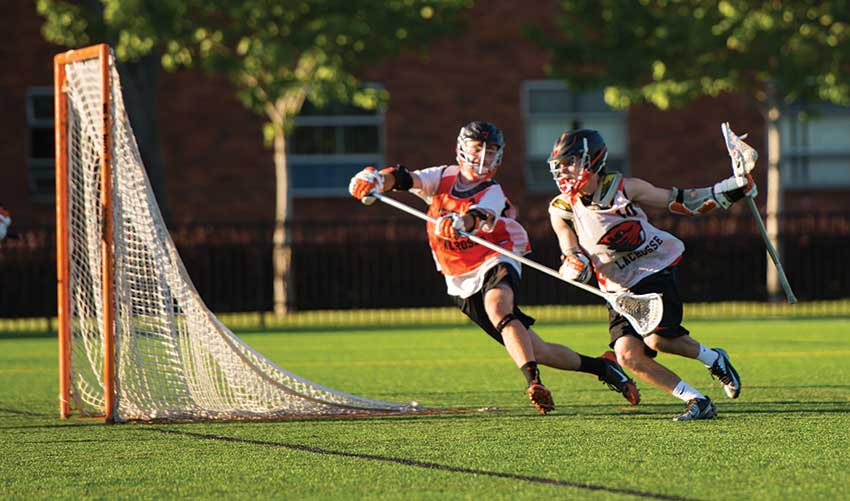 Clubs make campus athletics accessible to everyone.
Archery
Badminton
Baseball
Bass Fishing
Cycling
Disc Golf
Dodgeball
Equestrian – Dressage
Equestrian – Drill
Equestrian – Event
Equestrian – Hunter/Jumper
Gymnastics
Indoor Rock Climbing
Intercollegiate Equestrian
Judo
Karate
Kendo
Lacrosse – Men's
Lacrosse – Women's
Pistol


Polo – Horse
Racquetball
Rifle
Rugby – Men's
Rugby – Women's
Running
Sailing
Soccer – Men's
Soccer – Women's
Stock Horse
Table Tennis
Tae Kwon Do
Tennis
Triathlon
Ultimate Disc – Men's
Ultimate Disc – Women's
Volleyball – Men's
Volleyball – Women's
Water Polo – Men's
Water Polo – Women's