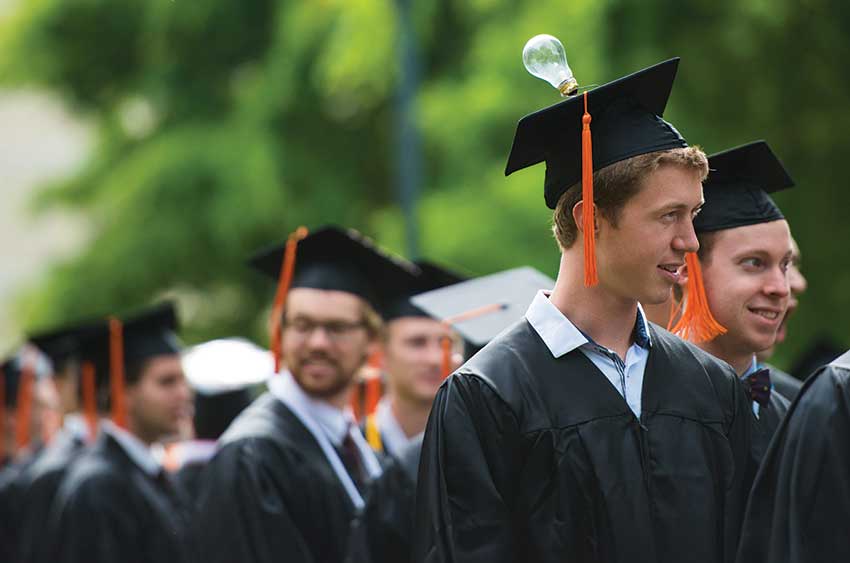 Our alumni do great things, near and far.
Oregon State's enduring legacy is the 202,000 alumni who go on to make a positive difference in their communities and beyond.
Linus Pauling '22 is the only recipient of two unshared Nobel Prizes — for chemistry in 1954 and peace in 1962. Pauling's research on micronutrients and human health continues at the Linus Pauling Institute, which is located in the university's science building that also bears his name.
Douglas Engelbart '48 helped shape the way people use technology, inventing the computer mouse and developing the concept of email.
Jensen Huang '84 is co-founder, president and CEO of NVIDIA, whose graphics processors can be found in everything from cell phones to gaming consoles to NASA workstations. He was named Fortune's Businessperson of the Year in 2017.
Baseball hero Darwin Barney was one of just a handful of players on both the 2006 and 2007 Beaver championship teams. The second baseman was drafted by the Chicago Cubs in 2007 and has also played for the Los Angeles Dodgers and Toronto Blue Jays.
Before Dick Fosbury '72, track and field high jumpers never used to land on their backs. Dick changed that forever when he invented the "Fosbury Flop," a back-first high jump technique that landed him a gold medal in the 1968 Summer Olympics.
Visual effects art director and production designer Harley Jessup '76 has won an Oscar, an Emmy and an Annie (for animation). His movie credits include "Ratatouille," "Monsters, Inc.," "The Hunt for Red October," "Innerspace" and "James and the Giant Peach."
Bernie Newcomb '65 cofounded E*TRADE, one of the first internet stock-trading companies.
Chris Johns '75 and Dennis Dimick '73 share stories from around the world as chief content officer and executive editor, respectively, of National Geographic.
Terry Baker '63 won the Heisman Trophy in 1962 and is currently a Portland-based attorney.
NASA astronaut and chemical engineer Donald Pettit '78 completed two six–month missions aboard the International Space Station.
<strong>Tim Leatherman '70 invented the versatile Leatherman line of multi-tools and knives.
Nabilah Al-Tunisi '82 is the head engineer for the $25 billion refinery and petrochemical plant Saudi Aramco, the world's largest oil company.
Mike Rich '82 is the screenwriter behind movies including "Secretariat," "Radio," "The Rookie" and "Finding Forrester."
John Young '53 was president and CEO of Hewlett-Packard from 1978 to 1992.
Gail Kimbell '82 was the first woman to head the U.S. Forest Service.
Leonard Shoen '43 founded the U-Haul moving company in 1945.
Darlene Hooley '61 served in the U.S. House of Representatives from 1997 to 2009.
Discover. Inquire. Find your niche.
Engineering, Computing and Information Systems
Architectural Engineering
Bioengineering
Business Information Systems
Chemical Engineering
Civil Engineering
Climate and Biosystems Modeling
Computational Physics
Computer Science
Construction
Engineering Management
Design and Innovation Management
Ecological Engineering
Electrical and Computer Engineering
Energy Systems Engineering
(OSU-Cascades only)
Environmental Engineering
Forest Engineering
Forest Engineering-Civil Engineering
General Engineering
(Freshmen Only)
Industrial Engineering
Innovation Management
(Double Degree)
Manufacturing Engineering
Mechanical Engineering
Nuclear Engineering
Radiation Health Physics
Arts, Humanities and Social Sciences
American Studies
(OSU-Cascades only)
Anthropology
Applied Visual Arts
Art
Asian Studies
Digital Communication Arts
Economics
English
Environmental Economics
and Policy
Ethnic Studies
French
German
Graphic Design
History
Interior Design
Liberal Studies
Marine Studies
Music
Philosophy
Political Science
Psychology
Public Policy
Religious Studies
Social Science (OSU-Cascades only)
Sociology
Spanish
Speech Communication
Theatre
Women, Gender
and Sexuality Studies
Science and Natural Resources
Agriculture and
Food Business Management
Agricultural Sciences
Animal Bio Health/Pre-Vet
Applied Physics
Biochemistry and Biophysics
Biochemistry and Molecular Biology
BioHealth Sciences
Biology
Bioresource Research
Botany
Chemistry
Climate and Biosystems Modeling
Crop and Soil Science
Earth Sciences
Ecological Engineering
Environmental Economics
and Policy
Environmental Sciences
Fisheries and Wildlife Science
Food Science and Technology
Forest Engineering
Forest Engineering-Civil Engineering
Forestry
Geography and Geospatial Science
Horticulture
Marine Biology
Mathematics
Microbiology
Natural Resources
Physics
Pre-Pharmacy
Pre-Veterinary Medicine
Rangeland Sciences
Renewable Materials
Sustainability (Double Degree)
Therapeutic Horticulture
Tourism, Recreation
and Adventure Leadership
Zoology
BUSINESS AND RELATED PROGRAMS
(*AACSB accredited)
Accountancy*
Agriculture and
Food Business Management
Apparel Design
Business Administration*
Business Analytics*
Business Information Systems*
Construction
Engineering Management
Design and Innovation Management
Entrepreneurship*
Environmental Economics
and Policy
Finance*
General Business
(OSU-Cascades only)
Health Management and Policy
Hospitality Management
(OSU-Cascades only)


BUSINESS AND RELATED PROGRAM (CONT)
Innovation Management
(Double Degree)*
Interior Design
International Business*
Management*
Marketing*
Merchandising Management*
Nutrition and Foodservice Systems
Tourism, Recreation and
Adventure Leadership
Health and Wellness
Biochemistry and Biophysics
Bioengineering
BioHealth Sciences
Biology
Bioresource Research
Chemistry
Education
Genetics
Health Management and Policy
Health Promotion and
Health Behavior
Human Development and
Family Sciences
Kinesiology
Microbiology
Nutrition
Nutrition and Foodservice Systems
Pre-Clinical Laboratory Science
Pre-Dentistry
Pre-Medicine
Pre-Optometry
Pre-Physical Therapy
Pre-Physician Assistant
Pre-Podiatry
Pre-Veterinary Medicine
Public Health
Radiation Health Physics
Therapeutic Horticulture
Zoology
Pre-Law
A unique 3+3 partnership with the Willamette University College of Law and the Lewis & Clark Law School offers students a path to a law degree in six years.
PRE-MEDICINE
Oregon State graduates have a nearly 70% acceptance rate into medical school. Students can apply to medical school with any major, as long as required Pre-Med courses are completed. Choose majors in science (BioHealth Sciences, Biology, Chemistry, Zoology), Engineering
(Bioengineering, Chemical Engineering, Radiation Health Physics), Health and Human Sciences (Kinesiology, Nutrition, Public Health) or Liberal Arts (History, Psychology).
Pre-Pharmacy
Most Pre-Pharmacy undergraduates choose College of Science majors. A common choice is BioHealth Sciences with a Pre-Pharmacy option.
Pre-VETERINARY Medicine
Pre-Veterinary Medicine preparation is available in the College of Agricultural Sciences (Animal Bio Health) and the College of Science (Biology).
Teacher Education
The undergraduate Education Double Degree must be paired with the choice of a primary major.
University Exploratory Studies
You don't have to decide on a major right away. Exploratory Studies can help you through the process of finding what you want to study while keeping you on track toward graduation.
Honors College
The Honors College is open by selective admission to undergraduate students from all academic majors.