Everyday life on campus: it's virtually everything outside the classroom, from housing and dining to recreation and events-it's student life! See how you can make the most of your experience at U-M.
Something for Everyone
Starting your life at Michigan can be exciting, but it can also be a bit overwhelming. Student Life offers programs and services to help students find a sense of belonging and make the campus experience their own. They can find a niche and get involved through student organizations, leadership opportunities, campus jobs and internships, and much more. There's something for everyone!
1,600+
Student Organizations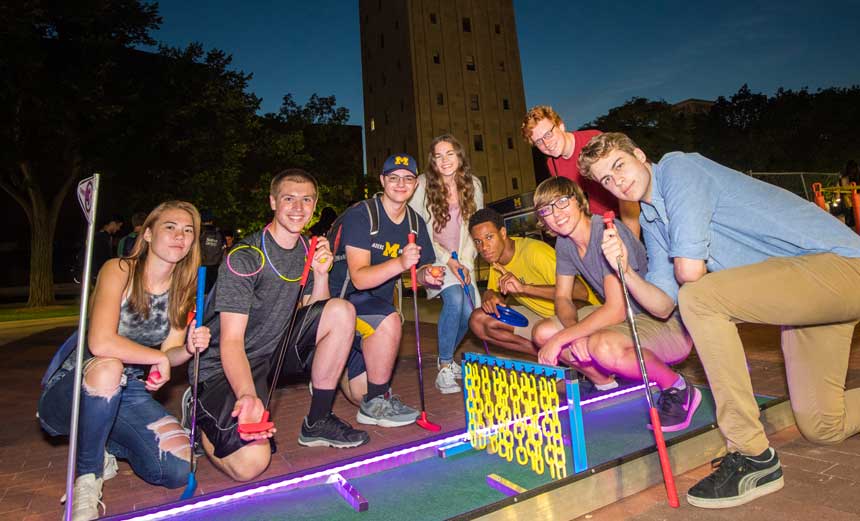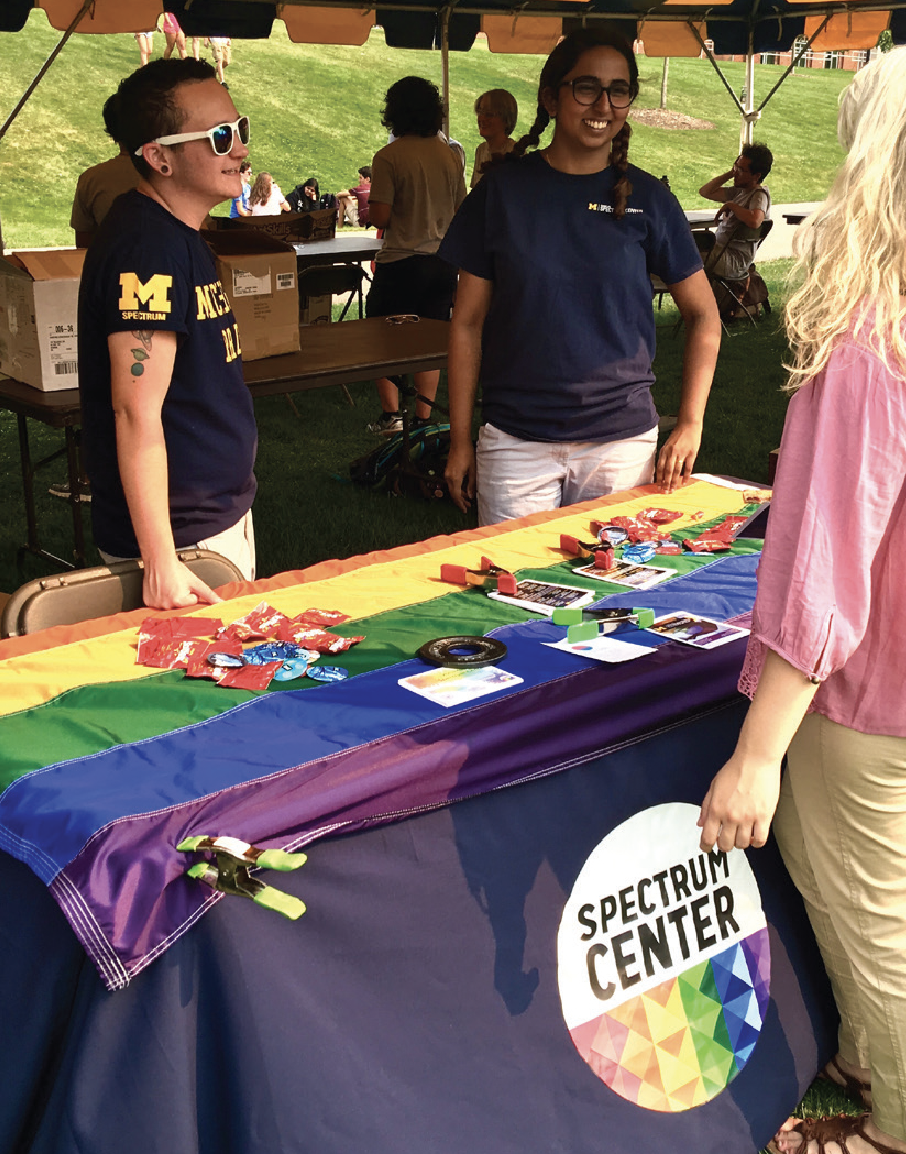 Becoming The Leaders and Best
While the classroom prepares students to pursue a career or calling, Student Life helps students pursue self-discovery and personal growth. What follows is just a sampling of the many resources available to U-M students:
Programs such as First Year
Experience host social events so students can meet other people in the halls.
Residential programs allow students to learn about relationships, leadership, and justice—right where they live.
Job opportunities within Student Life give students the chance to learn new skills and gain essential employment experience.
The University Career Center helps students prepare for life after college through resume building workshops, interview preparation, and networking opportunities.
7,837
International Students
Health and Wellness
Student Life provides the resources students need to stay healthy, happy, and whole. Here are just a few:
University Health Service is a comprehensive health care clinic for U-M students.
Counseling & Psychological Services offers free in-person and virtual counseling as well as online mental health resources.
Services for Students with Disabilities provides support, resources, and accommodations for more than 1,200 students with mental and physical disabilities.
The Dean of Students Office works with students and their parents to help navigate college life.
Various other Student Life departments assist students with conflict resolution, sexual assault prevention, legal support, social justice, bystander intervention training, and more.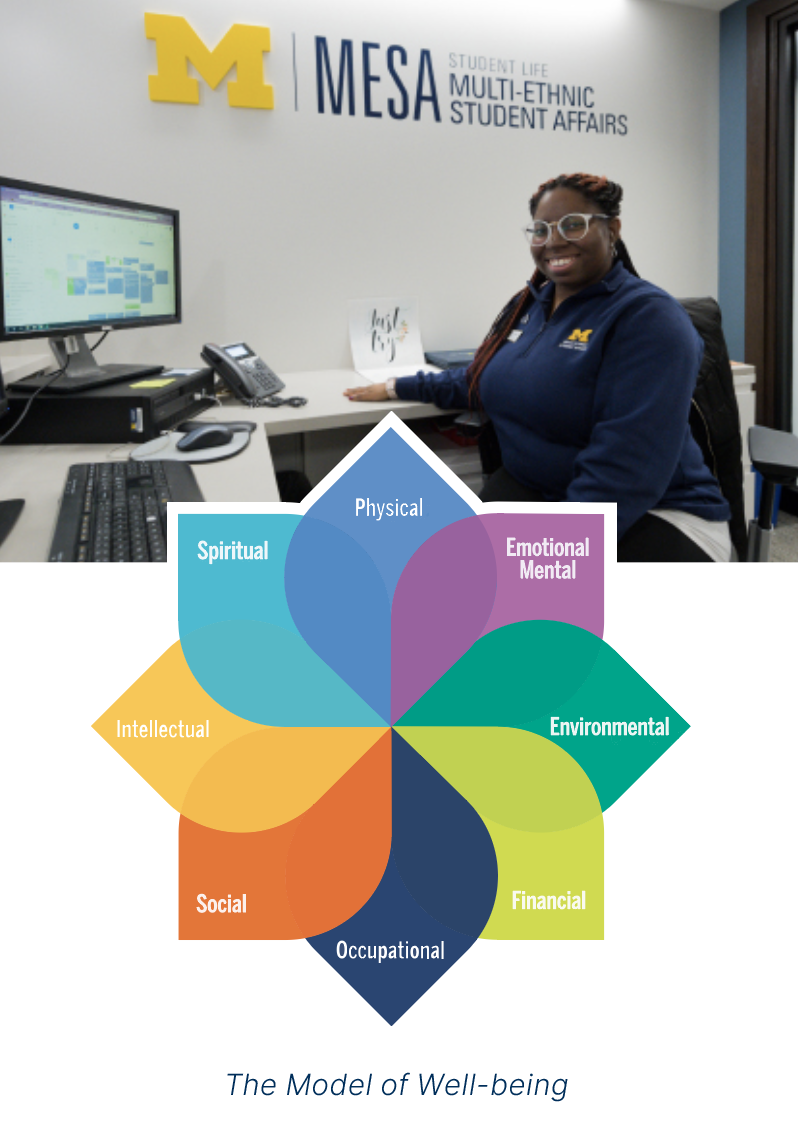 Diversity, Equity and Inclusion
Student Life offers more than 100 programs, resources, tools, and learning experiences to help create a diverse and multicultural community at U-M. For example:
Trotter Multicultural Center offers programs, activities, and events designed to bring students together in a space of equity, liberation, and cultural innovation.
Multi-Ethnic Student Affairs (MESA) engages the campus community and transforms the student experience to build inclusive spaces and equitable opportunities for all.
The Spectrum Center (established in 1971) serves the LGBTQ+ community as well as the larger U-M community.
The Program on Intergroup Relations is a social justice education program that helps prepare students to live in a diverse world.
The International Center facilitates intercultural and international education, and fosters a global campus community at U-M and beyond.
Michigan Housing offers living and learning programs that help students connect over interests and build community.
32,282
Undergraduate Students