Block M on the Diag
A gift from the class of 1953, the bronze Block M has a legend attached to it: if you step on it, you'll fail your first blue book exam.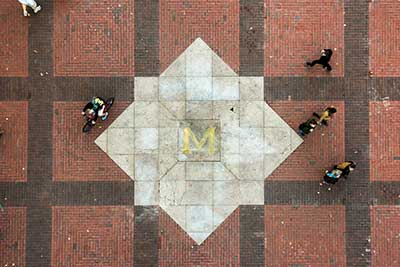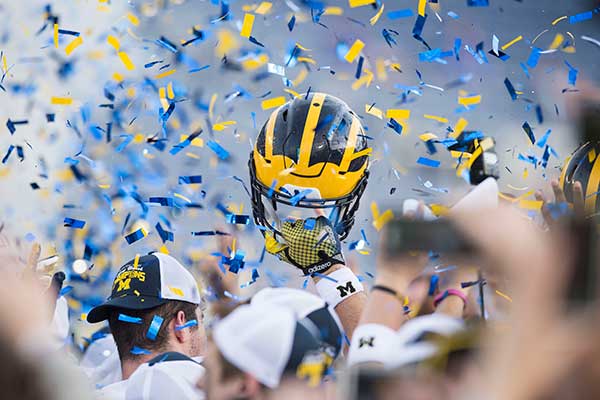 Winged Helmet
Until Fritz Crisler arrived in 1938, football players had plain black helmets. Crisler recommended a more unique helmet that could help passers spot their receivers downfield. Today, U-M's maize and blue winged helmet is one of the most recognizable symbols in college football.
Maize & Blue
In 1867, students
chose maize and azure blue as the school colors. Today, the university uses PMS 282 and PMS 7406, a maize-and-blue color palette that represents shades used by school officials and the Athletic Department through the years.
Michigan Marching Band
Nothing says spirit like the Michigan Marching Band! Historically ranked as one of the best in the nation, it was formed in 1896 and is an important part of every football Saturday.
The Wolverine
Since the earliest days of documented U-M history (as early as 1861), students, alumni, and fans have been referring to themselves as "Wolverines," although no one knows exactly why.
Engineering Arch
Legend has it that if two Wolverines kiss under the arch at midnight, they are destined to marry.