The Terp experience is much more than classes and homework. It encompasses residence hall life, clubs and sports, fraternities and sororities, campus events and even off-campus destinations. All students here have opportunities to create a unique identity and to grow as individuals even as they're part of a close-knit and diverse community.
Residence Halls
Nine out of every 10 freshmen at Maryland choose to live on campus. That's 9,450 Terps living in 37 residence halls that offer a variety of room types: traditional rooms, suites, semi-suites or apartment-style accommodations. The Department of Resident Life can connect new students with potential on-campus roommates and help them pick the right housing option for them. For more information, visit reslife.umd.edu.
Living-Learning Programs
Maryland's highly respected living-learning programs bring together students with a common interest—the environment, law, entrepreneurship, the digital humanities and many others—to share residence halls, classrooms and faculty. These students bond with each other and their instructors as they participate in special out-of-the-classroom opportunities designed to enhance their education. More than half of all first-year students participate in one of the 29 living-learning communities, including the Honors College, CIVICUS and College Park Scholars.Learn more at reslife.umd.edu/llp.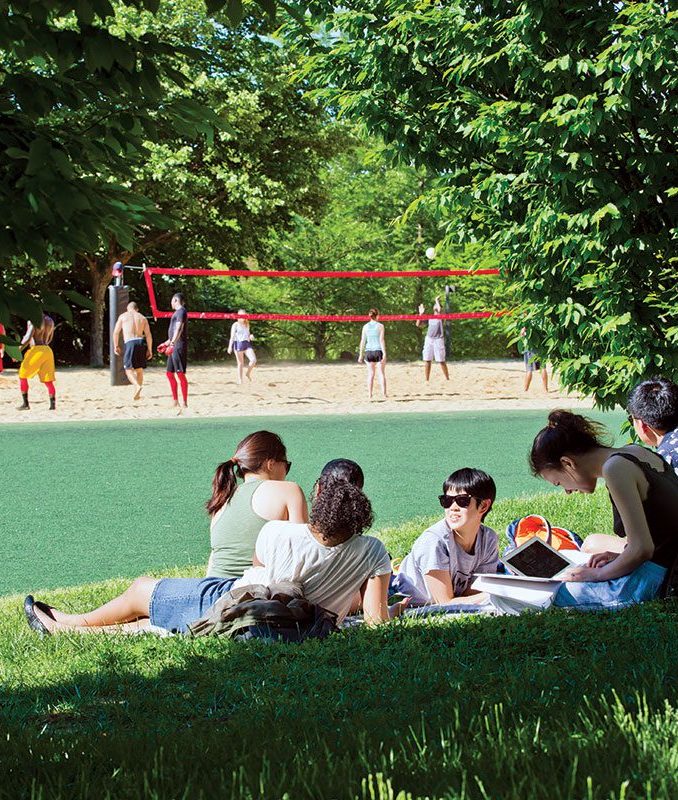 Getting Involved
Our students take part in more than 900 organizations, focused on sports, the arts, academics, service to the community, religion and much more. All it takes is eight people on campus with a common interest to start a new club. Fraternity and Sorority Life is active at Maryland, with 16 percent of undergraduates participating in UMD's 53 recognized Greek-letter organizations. These include 23 social fraternities, 16 social sororities, and 14 culturally-based fraternities and sororities.
Recreation and Wellness
A fun and essential aspect of life at UMD is being part of the "Active Terp" community —a vibrant, diverse group that plays, explores, trains, competes and supports one another. Physical activity gives students the energy to make the most of what UMD has to offer, creating a foundation for academic excellence.
University Recreation & Wellness, known as RecWell, offers a wide array of options for having fun and being active at its sites:
EPPLEY RECREATION CENTER
The biggest fitness hub on campus, Eppley includes an Olympic-size indoor pool; outdoor pool; 55-foot climbing wall; challenge course; basketball, racquetball and squash courts; multipurpose rooms; fitness and weight rooms; functional train ing studio; and sauna and steam room.
RECKORD ARMORY
This indoor facility houses basketball, volleyball and badminton courts, and is home to the intramural sports program, which has more than 7,000 participants each year.
RITCHIE COLISEUM
This former arena for Terp athletic teams features a single basketball court arena, fitness room, weight room, functional training space and multipurpose room.
OUTDOOR SPACES
Try them all: LaPlata Beach (turf field and 2 sand volleyball courts), Engineering Fields (grass - rugby, soccer, lacrosse, Ultimate Frisbee, field hockey and softball), Turf Fields (flag football, soccer, Ultimate Frisbee, lacrosse and field hockey), Fraternity Row (grass - rugby, soccer, flag football, Ultimate Frisbee), Chapel Field (grass - flag football, soccer, ultimate Frisbee) and 8 tennis courts.
UNIVERSITY GOLF COURSE
The home of the Maryland men's and women's golf teams is an 18-hole, Audobon-certified public course.
Students and sponsored guests are welcome at any of over 100 drop-in fitness classes offered weekly, such as yoga, cycling, Zumba and hip-hop shake. There are also more than 45 sports clubs, including boxing, figure skating, paintball and sailing.
For Terps who like to be active outdoors, the RecWell Adventure Program offers backpacking, caving, kayaking and other trips as well as outdoor gear rental and a campus bike shop for bike rentals and free maintenance.
For more information, visit recwell.umd.edu.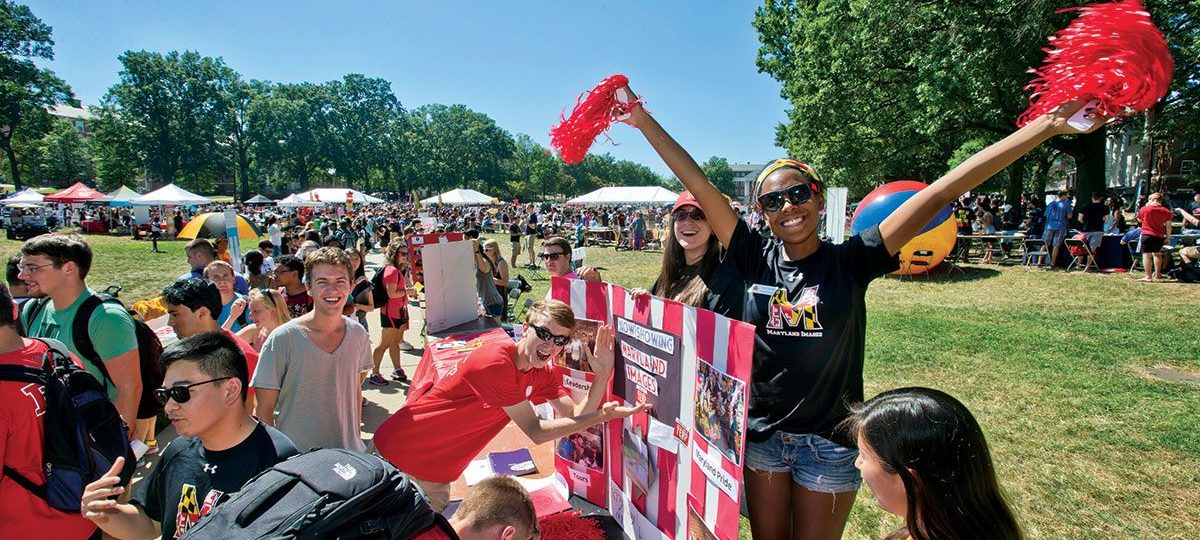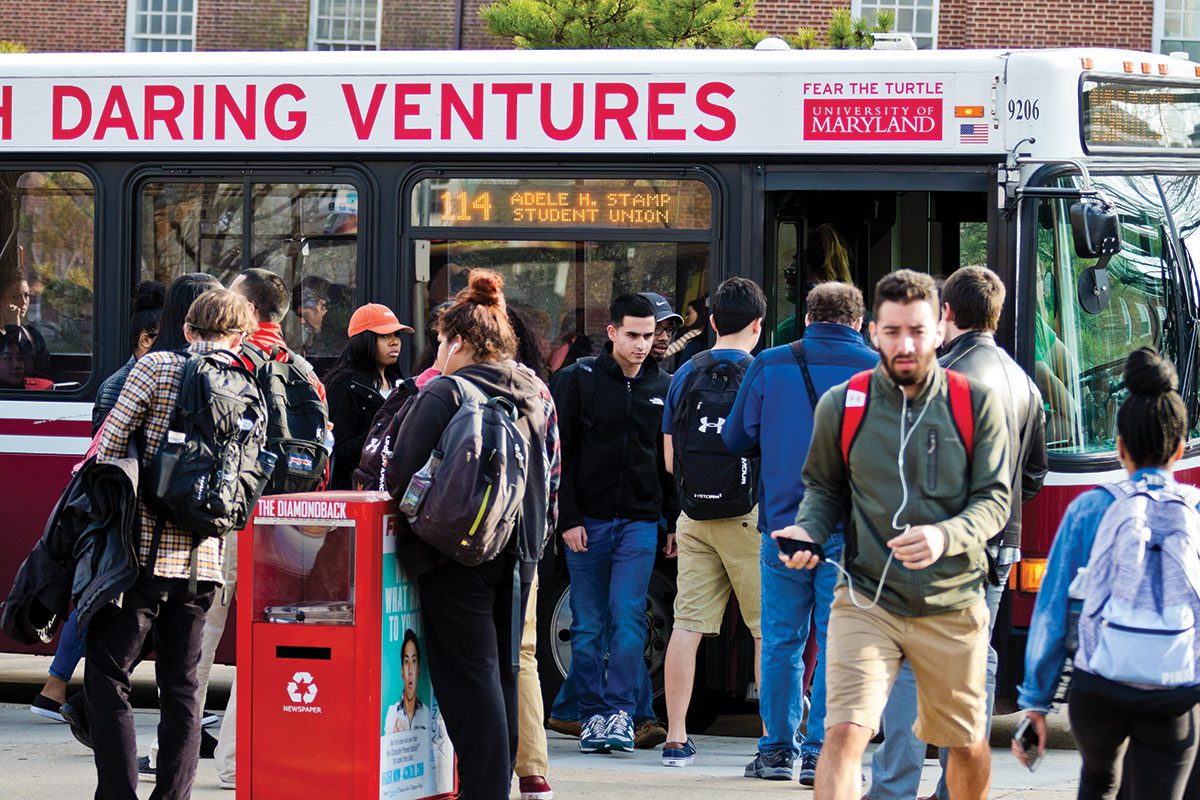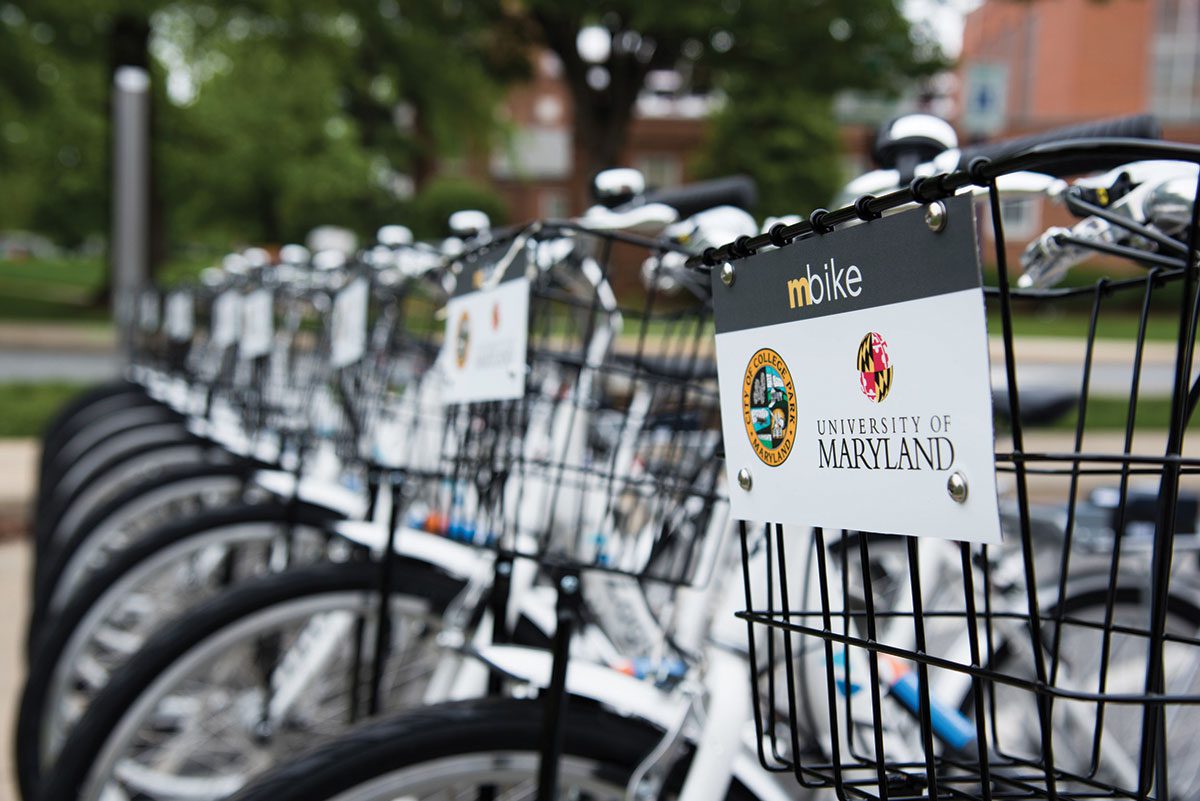 Getting Around
Wherever students live, the Department of Transportation Services offers a variety of options for reaching any destination.
SUSTAINABLE TRANSPORTATION
UMD Smart Commute incentivizes faculty, staff and students to try sustainable commuting options, which include, biking, using transit, walking, and ridesharing (carpool and vanpool). Those who log their trips through the program's online platform earn rewards for making environmentally friendly transportation choices.
To sign up, visit go.umd.edu/smart-commute.
BUSES
Shuttle-UM provides free bus service on and around campus, and D.C. Metrobuses frequently stop at UMD, too. NextBus is a GPS tracking system that provides accurate, real-time arrival information for all Shuttle-UM routes. Users can find and track a bus by phone, text message, monitors located at the Stamp and the Department of Transportation Services office, bus shelter LED screens and online.
For more information, visit transportation.umd.edu/shuttle-um.
BIKES
BikeUMD is the department's bicycle program. In partnership with University Recreation and Wellness, BikeUMD offers classes, semester bike rentals, free maintenance, discount safety gear and group rides. All bicycles on campus must be registered through the Bike Index (bikeindex.org/umd).
If you don't have your own bike, you can use the shared system, Veo, on campus and around College Park. Veo offers pay-as-you-go rides on a fleet of electric bikes and electric scooters and is a great way to navigate the area.
VEHICLES
On-campus parking is available on a first-come, first-served basis according to credit level and housing status. Freshmen residents are not eligible for campus parking, and must apply for an exception to purchase a permit.
Full information on parking can be found at transportation.umd.edu/parking.