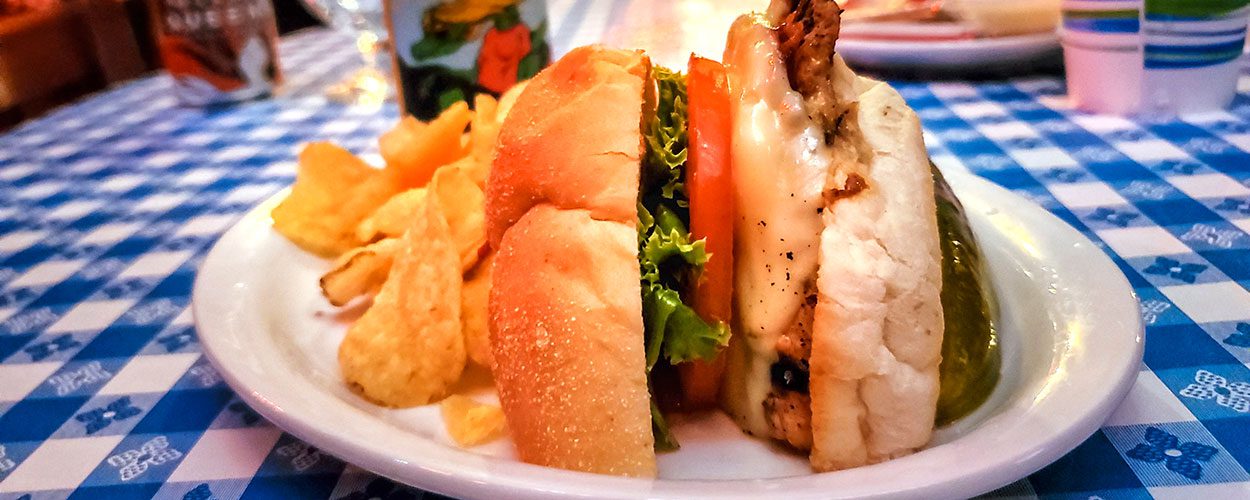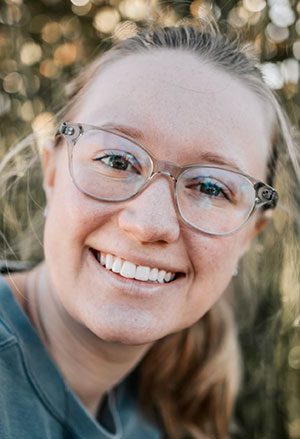 Claire Hargrove
Sophomore
Majoring in Advertising & Public Relations
Hammontree's
With 15 different grilled cheese options ranging from classic melts to blueberry grilled cheeses, it's no wonder Hammontree's is a Fayetteville favorite. They have 26 cheeses to choose from and sides like soup, fries (sweet potato & regular), and salad. Try the Build-A-Melt option if you can't find a sandwich that suits your fancy!
Hugo's
Pictured Above. Credit: Arkansas Tourism
Located under Fayetteville Square (that's right, "under"), Hugo's has been well-loved for 45 years. Mainly known for their burgers, they also offer fanfavorites like beer-cheese soup and grasshopper crepes. They have a full bar with local brews and seasonal beer options. Feed and Folly With its fun rooftop seating and rustic décor, Feed and Folly is the place to be any night of the week. From charcuterie boards to fish and chips, they also have a full-service bar with plenty of local beer options.
Plomo Quesadillas
Located on Dickson Street, Plomo is your onestop shop for all things quesadillas. Between their delicious options and on-the-go packaging style, you really can't go wrong. Don't forget to ask them to "Make it Dirty" if you want to add an extra layer of fried cheese to the outside of your quesadilla!
Damgoode Pies
Just around the corner from The Graduate is Damgoode Pies, a low-key pizza joint that is perfect for a slow lazy day. They have every sauce under the sun, all the appetizers you could dream of, and a pizza for everyone.
Wright's Barbeque
What started off as a small food truck has quickly become one of the most popular barbeque places in NWA with two locations in Fayetteville and Bentonville. Wright's Barbecue might win you over with their meat "as tender as a mother's love", but the friendly staff will keep you coming back for more.
Geraldi's
If you're craving authentic Italian cuisine, look no further than this family-owned restaurant. Geraldi's fresh ingredients, reasonable prices, and hearty portions will ensure you become a devoted fan. Geraldi's is a local favorite, so make sure you beat the crowds.
JJ's Grill
This sports bar gives you game day excitement without the sunburn. The food and drinks might be great, but the spectacular service is what makes JJ's stand out from the crowd.
Ella's Table (on campus)
Just steps from Old Main, you'll find Ella's Table inside The Inn at Carnall Hall. Whether you're celebrating a special occasion or just wanting a place off the beaten path, this is the perfect spot for breakfast, lunch, or dinner.
The Buttered Biscuit
If you're craving a good old homestyle breakfast, The Buttered Biscuit is just a mere two-mile drive from campus and worth the price of gas. Whether you decide to dine in or use the drive-through, your taste buds will be working overdrive while you wait.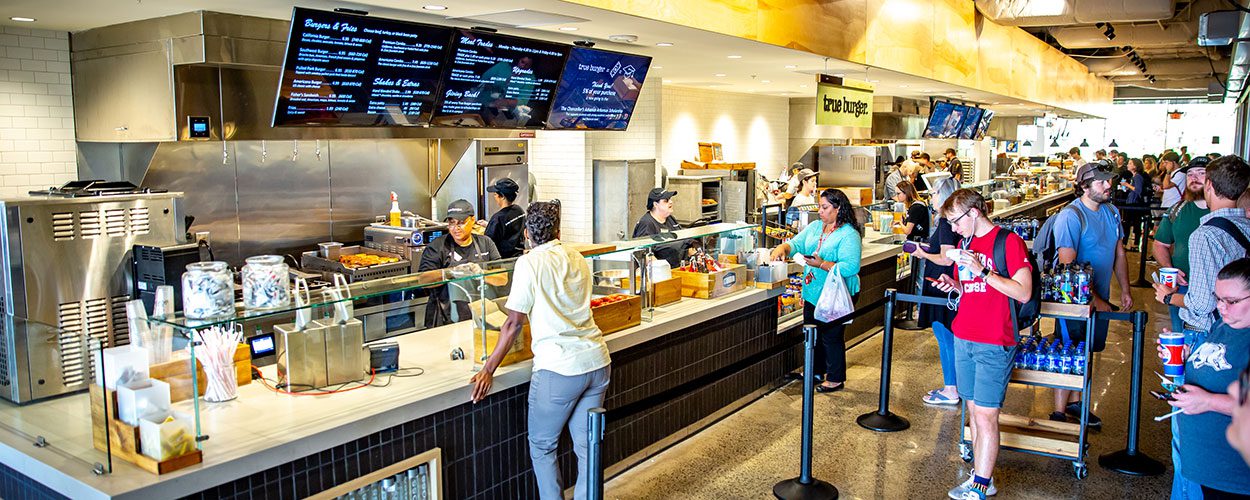 It's easy to work up an appetite on campus, so we invite you to take a break and enjoy a meal while you are here. No matter what you are in the mood for, our campus eateries offer something that is sure to hit the spot. Please note that several dining options have summer hours or may be closed during the summer break. Check the hours of operation for each venue at dineoncampus.com/razorbacks.
Arkansas Union – Market Food Court
Chick-fil-A
True Burger
Where The Wild Greens AR Union
Many other options!
Dining Halls
These "all you care to eat" dining halls offer everything from home-style favorites to made-to-order sandwiches and burgers.
1021 Food Hall
Fulbright Dining at the NW Quad
Pomfret Dining Center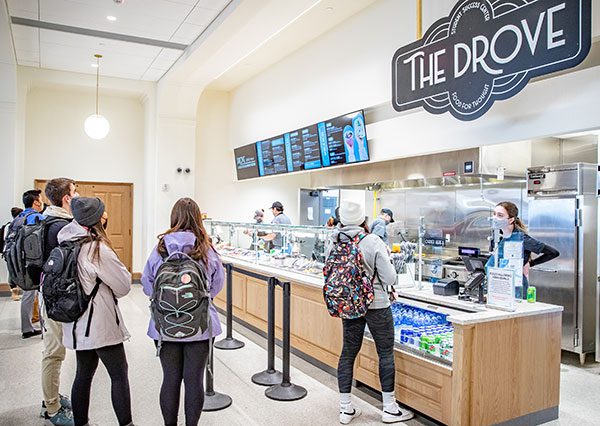 Founder's Hall
Annually changing café with menu and recipes
created by U of A students
Slim Chickens
Sushi With Gusto
Where The Wild Greens AR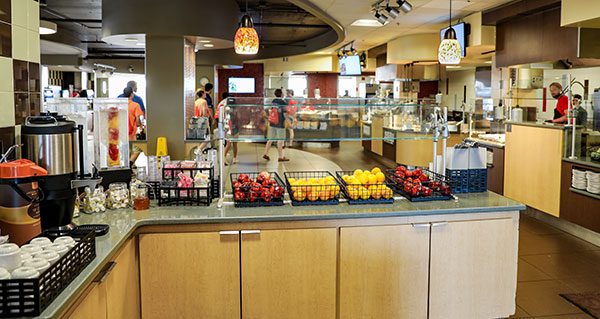 Cafés & More
Einstein Bros. Bagels - locations at Willard Walker Hall and the Bell Engineering Center
Arsaga's - café at the Leflar Law Center
Subway - Garland Center
Club Red - campus convenience stores are located at 1021 Food Hall, Maple Hill, and
The Arkansas Union
Peabody Perks - Peabody Hall
Ella's Restaurant
Fine dining featuring nouvelle cuisine with a pinch of history in the Historic Inn at Carnall Hall, on the corner of Arkansas Avenue and W. Maple Street.