A Student's Perspective: Ten Places to Eat/Go When Your Parents Visit
We asked Kellie Audrain, a writer for the student newspaper and a journalism major in the J. William Fulbright College of Arts and Sciences, to give campus visitors her top 10 list of places that students and their families would enjoy eating. Here's her go-to list.
1. Sala Thai — A finalist for the Arkansas Times' Best Ethnic Food Around the State, Sala Thai is a small family-run operation right off of campus. Their menu consists of meat and veggie options, including traditional dishes such as pad thai, lo mein and various curry options. If you're worried about a wait, go before the dinner rush: none of the food is pre-made, except for the delicious ginger-rice soup.
2. Food Trucks — Fayetteville is home to numerous groups of food trucks, found on College Avenue, North Street, Dickson Street, and Lake Fayetteville. If you enjoy a variety of food and like not being able to decide on what to eat, simply go to any of these locations. There's ice cream, pizza, Asian food, burgers, tacos and more. Prices range from very cheap to still affordable.
3. Rollin Pin Cafe — Established in 1993, Rollin Pin Cafe has been a staple of comfort food on the south eastern side of town. The 2016 winner of Best Breakfast from the Northwest Arkansas Democrat Gazette, Rollin Pin is known for its breakfast, obviously, as well as their made-fresh-every-day pies. If you see a pie you want on the board, best order it when you order your meal in case they run out. Vegetarians rejoice, because you can find delicious choices on the breakfast menu.
4. Wasabi — For the deep dive into sushi, Wasabi its the bill. Wasabi, located on Dickson Street near the center of Fayetteville's entertainment district, offers a modern Japanese cuisine. Their lunch menu includes a pick-two sushi special as well as a variety of Bento box specials, rice bowls, and noodle bowls. Dinner entrees include blackened tuna, a spicy ginger shrimp and a variety of other dishes with udon or soba noodles, not to forget the dozens of sushi options.
5. Hugo's — This Fayetteville favorite has stayed true to its menu and customers since opening in 1977 on Block Street. Serving burgers, Beer Cheese Soup, appetizers and desserts, Hugo's is the place to stop by if you're around town. The restaurant is in the basement of 25 ½ North Block Ave., which makes the whole Hugo's experience one for the books. Some locals may say skip it, but their reasoning follows the famous Yogi Berra quote: "Nobody goes there anymore. It's too crowded."
6. Grubs Bar & Grille Downtown — Another classic burger place, Grubs has two locations in Fayetteville, though most students will tell you to go to the Downtown restaurant for the authentic experience. Grubs opened over ten years ago off of Dickson Street and has served locals their award-winning burgers since. The downtown location is also one of the premier sports bars in town. Every weeknight the restaurant has different specials, whether they're for food or drinks. Once again, vegetarians fear not, for they have salads, wraps, and other non-burger foods.
7. Sassy's Red House — Barbeque lovers rejoice, for Sassy's will whet your appetite. Located on College near North Street, the iconic Red House (it's literally a red house) sits like a stereotypical small-town establishment with a gravel parking lot in the middle of Fayetteville. Their lunch specials feature their delicious sandwiches, ribs, catfish, and tacos and a choice of sides (the waffle fries are comparable to Chick-fil-A). A second location can be found off Wedington.
8. Tacos 4 Life — This chain has nine locations in Arkansas as of writing, and Fayetteville is one of four towns north of Conway to have one. Tacos 4 Life could be considered a charity, matching every meal purchased with a meal given to those in need. With over 500,000 meals donated from all their locations, you know their food has to be good. Tacos 4 Life has numerous tacos, such as their thai peanut chicken, fried chicken and magic tofu tacos, quesadillas and chips and queso.
9. Briar Rose Bakery & Deli or Arsaga's Depot — The only shop on the list outside of Fayetteville, Briar Rose is located in Farmington right on Main Street. The bakery has won awards for their cinnamon rolls, but their other baked goods, lunch and breakfast options shouldn't be overlooked. For those who have to worry about gluten intake, every Thursday gluten-free options are freshly baked. During the summer, BBQ lovers can enjoy Damon's BBQ on Fridays in the parking lot of the bakery, then go inside for a dessert. If you want the same quaint, small cafe feeling near campus for studying, Arsaga's on Dickson is perfect if you don't mind the typical college town crowds and a wait! Their fries are heaven, and their Arsagaccinos are the best ways to beat the August heat!
10. Khana Indian Grill — Still relatively new on the College Avenue strip after opening in the fall of 2015, Khana serves traditional Indian food with style. Soft, colored neon lights up the curry, chicken tikka masala and samosas served on compostable plates. The khati rolls are a good introduction to Indian food for people who have yet to try it, and just one can fill you up. The only bad thing about Khana is there's too many dishes to try.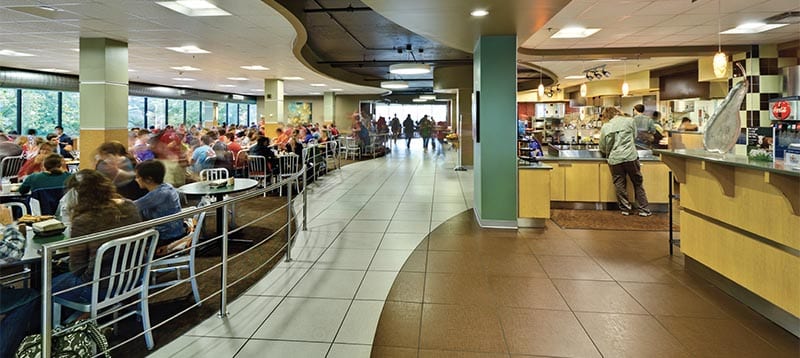 Tasty options on campus
It's easy to work up an appetite on campus, so we invite you to take a break and enjoy a meal while you're here. No matter what you're in the mood for, our campus eateries offer something that's sure to hit the spot.
The Arkansas Union
Union Market Food Court — Flying Burrito, True Burger, Chick-fil-A, and several other options.
Where the Wild Greens AR
Dining Halls
These "all you care to eat" dining halls offer everything from home-style favorites to made-to-order sandwiches and burgers.
Brough Commons
Fulbright Dining at the NW Quad
Pomfret Dining Center Also at Brough
Quiznos
Starbucks
Founder's Hall
Annually changing café with menu and recipes created by U of A students.
Slim Chickens
Papa John's Pizza
Rocket Taco
Cafés & More
Einstein Bros. Bagels – locations at Willard Walker Hall and the Bell Engineering Center
Arsaga's – café at the Leflar Law Center
Garland Center — Subway
Club Red – campus convenience stores are located at Brough, Maple Hill and The Arkansas Union
Peabody Perks at Peabody Hall
Au Bon Pain in the Union and at Champion's Hall.
Ella's Restaurant
Fine dining featuring nouveau cuisine with a pinch of history in the Historic Inn at Carnall Hall, on the corner of Arkansas Ave. and W. Maple St.